Sukhbir pulls up DC for slow paddy lifting
Bathinda, October 9
Taking a serious note of slow lifting of paddy from grain market here, SAD chief Sukhbir Singh Badal directed officials concerned to speed up lifting and also making sure the payments were made within 48 hours.
Women become security minded, seek arms licence
Ludhiana, October 9
Usually Jat Sikh men are said to be going for arms licences. These days more women are seeking to have authorisation to keep a gun by their side .
Law to check malpractices by doctors
Ludhiana, October 9
Punjab government is contemplating an enactment to check malpractices by doctors.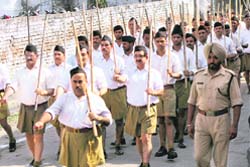 OLD GUARDS: RSS volunteers, including transport minister Master Mohan Lal (extreme left) take part in a march to mark Vijay Divas in Pathankot on Thursday. Photo: N.P. Dhawan
46 cases of dengue reported
Bathinda, October 9
The number of dengue patients admitted to civil hospital and private hospitals here has gone up to 46.
Old-age, Widow Pension
Survey to weed out ineligible beneficiaries
Sangrur, October 9
Following a receipt of complaints regarding the sanction of old-age pension and other pensions, including widow pension, to ineligible persons the government has ordered a survey to delete names of ineligible persons from the lists of beneficiaries.
Lobbying on for Baba Farid varsity VC's post
Patiala, October 9
Lobbying for the post of vice-chancellor of the Baba Farid University of Health Sciences has started as the term of Dr Ravinder Singh is due to end later this month. Senior medical professionals have started approaching political leaders.
SGPC honours kin of Vaidya's assassins
Amritsar, October 9
The kin of assassins of Gen Arun Vaidya, a former Army chief, Harjinder Singh Jinda and Sukhdev Singh, were honoured in the Golden Temple complex, to mark their death anniversary, here today.
5 youths, 4 of family die in accidents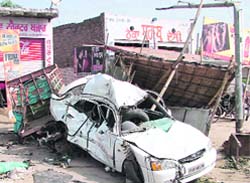 Moga, October 9
Five youths were killed while three were seriously injured when the car in which they were travelling first rammed into a road divider and then hit a pole and other vehicles parked on the roadside at about 2 am on the Moga-Ludhiana road here on today.



The car that met with an accident in Moga on Thursday. Five youths lost lives in the accident. A Tribune photograph
Traffic snarls during festivals
Nabha, October 9
Traffic in markets here is becoming chaotic on account of approaching Diwali festival. The town has main approaches - Patiala Gate, Mehs Gate, Boran Gate, Dulladi Gate and Alhoran Gate. Roads from these gates culminate at Chowk Devi Dwala. All markets are located on these roads. Traffic jams are common on Bhikhi More, Old Subzi Mandi, Sadar Bazar, Bhawara Bazar, Panch Mukhi Mandir and Devi Dwala Chowk.
Dussehra celebrated in Pak
Amritsar, October 9
Dussehra was celebrated for the first time at Krishana Temple in Lahore in Pakistan. Though it was a low-key affair, as effigies of Ravana and others were not burnt in view of the troubled conditions in that country.
Dussehra celebrated with fervour
Sangrur , October 9
Dussehra, was celebrated with fervour at War Heroes Stadium here and other places by Ram Leela committees in the town this evening.


Bank guard killed
Zira (Ferozepur), October 9
A gunman was killed and two persons were injured when unidentified persons opened fire on a van of the ICCI bank carrying cash near Talwandi Mange village in Zira sub-division of Ferozepur district, yesterday evening.
Gang of smugglers busted, 10 kg heroin seized
Ferozepur, October 9
With the arrest of two drug peddlers, the police claims to have busted an international gang of smugglers. 10 kg of heroin brought to India from across the border has been seized from them.