Heat from meat
R.K. Luna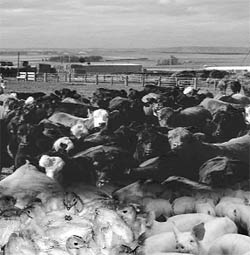 Various cultures of the world have adopted different plants as their main food crop, or staple. However, there are some societies that eat almost entirely plants, whereas others use a substantial amount of animal-derived foods. For example in India, plants contribute 80 per cent of the dietary protein (cereals and legumes), but in the United States plants provide only 20 per cent of dietary protein. The remaining comes from animals and animal products.
The dietary differences have developed among regions, social classes and people of various religious groups. Before humans first practised agriculture, ancient hunter gatherers had evolved a complex relationship with their environment. With the development of agriculture, people narrowed their food selections so drastically, that now all over the world only three cultivated plants, viz. wheat, rice, and maize make up two-thirds of the human diet. The same is true of animal protein products which are mainly pork, chicken and beef.
It may be noted that it takes three to five times as many farm resources to produce a single calorie or a gram of protein of meat or dairy product, compared to cereal grains, legumes, or tuber crops. Global meat production has increased fivefold since 1950 and in 2004 estimated production was 258 million tons. This huge production is possible only through factory farming. In China alone, there are an estimated 14,000 confined feeding operations, and about 15 per cent of its pork and chicken production comes from factory farms.
This production of meat does not come without environmental costs. The FAO has calculated that meat production accounts for nearly a fifth of global green houses gas emissions. Dr. R.K. Pachouri thus before proceeding to the International Meet on Climatic Change has made a powerful point that to save the world from global warming; we have to develop the habit of eating less meat. His argument that by skipping meat once a weak, the emissions can be brought down, needs credence. Obviously, eating meat does not cause emissions, but the problem lies in the production processes, huge land clearances required for ranching animals, the mounds of farm waste produced and the way feed is grown for animals.
Meat production also comes at the cost of oil as each stage of production, from growing feed to transporting and processing animals, is highly energy consumptive. Producing one calorie of beef takes 33 per cent more fossil fuel energy than producing a calorie of potatoes. Confined Animal Feeding Operations (CAFOs) are operations that crowd hundreds of animals, cows, pigs or chickens, or turkeys together, with little or no access to light and fresh air and little opportunity to act naturally. This artificial environment creation themselves require large amount of energy for heating, cooking and lighting.
The CAFO waste, high in nitrogen, comes largely from animal feed, or from the fertilizer used to grow it. Factory farm depends on chemical fertilizers to grow food rather the manure waste, as it can be readily shipped to corn growers and feed corn to factory farms. In each case, the basic input is no longer produced by the landscape in which it is used for sustainable production. For example in the United States, of the total annual production of 600 million tons of waste annually, only half of it gets effectively used into the crop cycle, the remainder ends up polluting air, water and the soil itself. This raw waste, exposed to air, produces large amount of gaseous ammonia, not only a source of immediate public health problems but also contributing to global warming.
Next is methane produced during the process. Methane is sixty times more potent at capturing heat energy than carbon dioxide. It is estimated that methane will cause 15 to 17 per cent of all global warming experienced in this century. Therefore, the worry is real.
Conversion of small traditional agro-livestock production systems into big farms are causing nutrient imbalances in the countries like China, Thailand and Vietnam. While farmers with five pigs can have a well-managed, well developed closed-loop recycling system, where they can use manure to fertilizer these crops, farmers with 500 or more pigs can no longer follow these sustainable practices.
As the meat and animals are shipped across border, and oceans, diseases like avian flue, BSE, and foot-and –mouth (FMD) can become a global phenomenon. In fact, factory farm provides the perfect conditions for disease to spread from livestock to people. Avian flue is just the most recent example of how animal diseases can threaten the human health. Since its biggest and worst modern outbreak in Asia during 2003, it continues to affect human health and poultry production. The virus responsible for the flue continues to change, even becoming more lethal with every new outbreak.
One way to overcome the problem of factory meat production is to raise animals on pasture as it is less environmentally destructive. But owing to enormous demand of land for ranching, it has also started showing disastrous consequences. According to a 2004 report by the Centre for International Forestry Research, rapid growth in Brazilian beef sales from 40 per cent to 74 per cent has accelerated destruction of forest from 41.5 million hectares in 1950 to 58.7 million hectares in 2000. This is not all.
Soybean production for animal feed is destroying Brazil's forests as well. By the end of 2004, more than 16,000 km of rain forests were cleared for farming soybeans for poultry and pork industries. It is only by raising cattle in a way that is compatible with the surrounding environment, can save the forests. Recent studies in the Philippines, Brazil and Thailand suggest that small livestock farms may be more efficient than larger production operations at generating profits per unit of out put.
Production of meat is however demand driven. Many governments for political reasons, often encourage meat consumption by providing agricultural price support for feed grains, tax incentives for feedlot operators, guaranteed minimum prices, and through providing godowns for storage of surpluses and the evil goes on. Unless the people and communities decide to change their diet habits, the factories will continue to produce animal protein.