Comedy is serious stuff: Rana
Amritsar, October 14
"Comedy is a serious business and very tough job. Not everyone can master it, but for a theatre artiste it is not that difficult," claims Punjabi comedian Rana Ranbir while talking to The Tribune here at the 28th Mohammad Rafi awards.
'Efforts on to make Pbi language of the judiciary'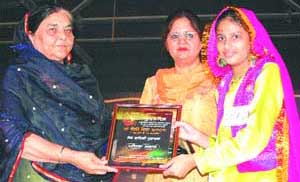 Amritsar, October 14
Dr Upinderjit Kaur, Punjab education minister, said the state government was committed to introduce Punjabi as medium of instruction in higher education in the state and the efforts were on to make Punjabi an official language in the judiciary.
A student gets a prize from education minister Upinderjit Kaur.

Lord Of The Rings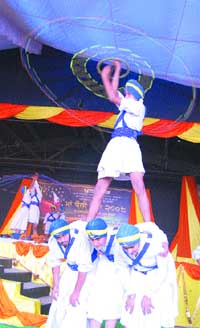 Students perform gatka during a function to mark the culmination of Maa Boli Mela in Amritsar on Tuesday. Photo: Vishal Kumar
SAANJH festival: Building bridges, breeding hope
Amritsar, October 14
Aimed at harmonising strained relations between the people of two neighbouring countries, but with common culture and living, the SAANJH festival has come full circle. The team of Punarjyot - an offshoot of the Spring Dale Educational Society and the Rafi Peer Theatre Workshop, Lahore, which started the festival today - felt that the aims and objectives of the festival, as set at its inception, seemed to have been fulfilled now as it contributed to a great extent in building national harmony and acted as an activist in restoring the peace between India and Pakistan.
Father's day out at DPS
Amritsar, October 14
To help parents freely interact and understand their kids' growth in the school environment, the Delhi Public School today observed Father's Day which was marked by various fun-filled activities.
Zonal Youth Festival
A-division trophy for BBK College
Amritsar, October 14
The BBK DAV College for Women, Amritsar, won the 'A' division championship during the three-day zonal youth festival of Guru Nanak Dev University that concluded here on Sunday. The 'B' division title went to the Shaheed Darshan Singh Pheruman College for Women, Rayya.
'Pratibha' brings the best out of students
Amritsar, October 14
The postgraduate department of management studies and computer applications of the Amritsar College of Engineering and Technology here has created a club, "Pratibha", to encourage gifted people and demonstrate their talent.