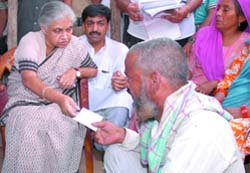 Delhi Chief Minister Sheila Dikshit talks to family members of the victims who drowned in the Yamuna river during the immersion of Durga idols in Delhi on Tuesday. Tribune photo
Muslims should unite as a political force: Clerics
New Delhi, October 14
Muslim identity has been equated with terrorism, and there is a need for the community to unite and emerge as a political force, said speakers on Tuesday at a gathering of Muslim clerics and scholars from across the country.
Communal Violence
Minorities protest against inaction
New Delhi, October 14
Groups representing India's religious minorities and activists held a protest rally here on Tuesday demanding stronger action against perpetrators of communal violence, with several parts of the country seeing sectarian strife in the past two months.
Jamia Nagar Encounter
Cops, forensic experts face irate residents at Jamia Nagar
New Delhi, October 14
A team of Delhi police's crime branch and forensic experts faced an irate group of residents when they went to Jamia Nagar on Monday to examine the L-18 Batla House apartment where two suspected terrorists were gunned down last month in a shootout that some allege was stage-managed.
Cops get notice for 'picking up' juveniles
New Delhi, October 14
Retired Indian Police Service (IPS) officer Amod Kanth, who is now chairperson of the Delhi Commission for Child Rights, said the commission has issued notice to the Delhi police for "picking up" some juveniles for interrogation from Jamia Nagar after the September 19 shootout and holding them back for hours.
'Community radio, a new tool for info dissemination'
New Delhi, September 14
The media came in for a lot of bashing from experts in a hands-on discussion on the Indian community radio experience. The discussion took place at a conference organized this week on 'Community Radio: Practices and Possibilities' at Indira Gandhi National Open University (IGNOU).
Fire, security products on display tomorrow
New Delhi, October 14
An international fire and security exposition will be held for the first time in India at Pragati Maidan here from October 16 to 18.
Seven get Rajiv Gandhi State Sports Awards
New Delhi, October 14
Chief Minister Sheila Dikshit and education minister Arvinder Singh today distributed Rajiv Gandhi State Sports Awards for 2007 to seven sports persons at a ceremony in Delhi Secretariat here.
Ganga Ram starts balloon system to treat sinusitis
New Delhi, October 14
Becoming the first hospital in North India offering balloon sinuplasty, Sri Ganga Ram
Body of AIIMS employee not yet found
New Delhi, October 14
The rescue team of the Delhi police has still not been able to locate the body of the AIIMS employee Indu Prabha, who allegedly committed suicide by jumping into the Yamuna on Sunday night.
3 robbers arrested
New Delhi, October 14
With the arrest of three persons — Mahendra Kumar, Sandeep and Pankaj — the north-east district police has claimed to have arrested interstate robbers who were also involved in a murder case in Delhi.
Truck kills woman, injures three in Rohini
New Delhi, October 14
A woman was killed while three others were injured when a truck went off track last night in the Rohini area.
Mumbai, Delhi most competitive for biz
New Delhi, October 14
Mumbai and Delhi top the list of top 10 cities for doing business in India, according to a competitiveness index report prepared by the real estate-focused publication Realty Plus.
In S. Delhi, children fall to death mostly from roof top
Noida, October 14
SAFCON 2008, a conference held at Amity University in Noida recently, revealed that a majority of cases of fall of children, reported from the South Delhi area, were from rooftops.
PCR van staff in the dock
Let snatchers go scot-free
Ghaziabad, October 14
Ghaziabad City superintendent of police has ordered inquiry into the complaint against the PCR van staff for letting the snatchers go scot-free and harassing the snatching victim instead.
Free health mela to start on Oct 17
New Delhi, October 14


15th MTNL Perfect Health Mela will open on October 17 at NDMC Mini Stadium, Laxmibai Nagar, behind Indira Niketan Girls Hostel.



Dr.K.K. Aggarwal, president of the Heart Care Foundation of India with singer Vipin Aneja addresses a press conference on the MTNL perfect health mela in New Delhi on Tuesday. Tribune photo
IDEA offer for Divali
Noida, October 14
Gearing up for the Divali festive season, IDEA Cellular, the leader in Uttar Pradesh West, has today announced the launch of Divali Dhanwarsha offer for its prepaid subscribers.