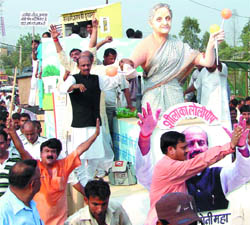 Led by Goel, BJP men court arrest
New Delhi, October 4
Former union minister Vijay Goel and all India general secretary of the BJP along with a large number of BJP activists were arrested from near Chhatrasal Stadium where they protested against Sheila Dikshit-led Congress government in Delhi. He claimed that distribution of provisional certificates for authorisation of unauthorised colonies was a fraud.

BJP leader Vijay Goel with other actvists protest against the Delhi government's function. — ATribune photograph

Blast suspects sent to police custody
New Delhi, October 4
The five suspected terrorists allegedly involved in the September 13 serial blasts in the national capital were today remanded to 12 days' police custody by a court here.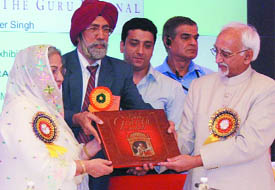 Vice-president Hamid Ansari and Gursharan Kaur release a book on Guru Granth Sahib 'The Guru Eternal' by Mohinder Singh at a function in New Delhi on Saturday. — A Tribune photograph
Transparency in probe sought
New Delhi, October 4
A fortnight after two suspected terrorists were killed in a shootout here, a former BBC broadcaster who now teaches at the Jamia Millia Islamia, said transparency in the investigation process was required to win back the trust of Muslims. According to him, a sense of unease has engulfed the community.
Bomb scare in Noida market
Noida, October 4
The information that bombs had been placed in two banks and another building in Noida's posh market caused panic in Sector-18 market on Friday evening.
'Justice for Soumya' campaign launched
New Delhi, October 4
Mourning the tragic murder of Headlines Today journalist Soumya Vishwanathan, mediapersons today launched a 'Justice for Soumya' campaign, demanding the early arrest of her murderers and safer roads for working women of the capital.
BMW Case
Nanda denied bail
New Delhi, October 4
The Delhi High Court today rejected the bail plea of Sanjeev Nanda, grandson of former naval chief S.M. Nanda, who was sentenced to five years' rigorous imprisonment for mowing down six persons in BMW hit-and-run case of 1999.
Ajay Katara arrested for abduction bid
Ghaziabad, October 4
Ajay Katara, key-witness in the Nitish Katara murder case, was on Friday arrested for attempting to kidnap a property dealer here.
Police to enlist volunteers to check crime
Faridabad, October 4
In the wake of increase in terrorist attacks across the country and two recent incidents of hoax bomb scare in the city, the district police has launched several drives to prevent such incidents and keep an eye on sensitive areas and notorious criminals.
5 injured in S. Delhi fire
New Delhi, October 4
Three members of a family were among five injured when a fire broke out inside a house in Sarai Kale Khan today, a fire brigade official said.
IGNOU, American institute to start tourism course
New Delhi, October 4
Indira Gandhi National Open University (IGNOU) and the India branch of Orlando-based American Hotel and Lodging Educational Institute (AH&LEI) have recently tied up to start a School of Tourism and Hospitality Service Sectoral Management (SOTHSSM).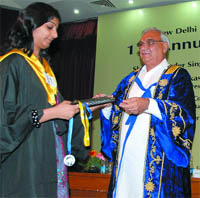 Hooda presents medals to students
New Delhi, October 4
Haryana Chief Minister Bhupinder Singh Hooda today presented medals and awards to students of the New Delhi Institute of Management on the occasion of their 11th annual convocation. He also honoured prominent personalities for specialisation in finance, marketing, human resources and information technology during the function.

Haryana Chief Minister Bhupinder Singh Hooda presents medal to a student at the 11th annual convocation of New Delhi Institute of Management in New Delhi on Saturday. — A Tribune photograph

Noida to have its own trade fair
Noida, October 4
Noida will soon be the venue for a trade fair on the pattern of Surajkund fair to be organized by the UP tourism department.
Manual scavengers turn over a new leaf
New Delhi, October 4
Manual scavengers can now go for a respectable source of income, i.e. selling fresh fruit and vegetables in mobile cold carts, powered by green technology and the first of its kind under the Self-Employment Scheme for Rehabilitation of Manual Scavengers of Government of India.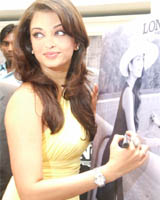 I identify a lot with Abhishek: Aish
New Delhi, October 4
Bollywood actress Aishwarya Rai can't stop gushing about her husband Abhishek Bachchan and says they share a special bond and she identifies a lot with him. "I admire him (Abhishek) for his approach to work. He understands cinema so well that he is not afraid of taking risks. He stands by his family, friends all the time and because of this I identify a lot with him," Aishwarya said.


Aishwarya Rai Bachchan at Ambience Mall in Gurgaon on Saturday. — Tribune photo by Rajesh Kumar Yadav

Institutional reform needed now: Economist
New Delhi, October 4
"Today we have the opportunity of coming back as a civilization after being in decline for a thousand years that is right up to the 10th century when we were the largest economy globally. This has been an extremely long period of decline and today for the first time there is an opportunity for change," says author and Deutsche Bank economist, Sanjeev Sanyal.
Rs 2 m missing from state treasury
Ghaziabad, October 4
A box containing Rs two million was on Saturday found missing from the state treasury in this Uttar Pradesh town adjacent to the national capital, the police said.