A car overturns after hitting a tempo at the national highway of Rajiv Chowk in Gurgaon on Monday night. Tribune photo: Rajesh Kumar Yadav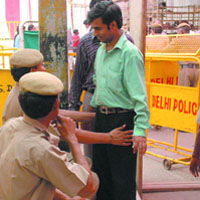 Blasts shadow on Navratri celebrations
New Delhi, September 30
"I am very scared to go outside and shop for the Navratri festival this year. I will be keeping fast for these nine days but I will not visit any temple because after these blasts, temples seem to be the next target for terrorists," said Radhika (21), a student of Amity University. After the September 13 serial blasts and the Mehrauli blasts on two different Saturdays, Delhiites have almost lost faith in the police, judiciary or the intelligence agencies.

Delhi police personnel frisk a man at the entrance of Jhandewalan Mandir in New Delhi on Tuesday. Tribune photo

Father gets life for raping minor daughter
New Delhi, September 30
A court here today awarded life imprisonment to a handicapped man for repeatedly raping his minor daughter at their West Delhi home two years ago.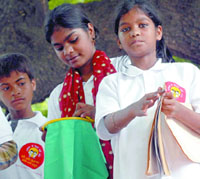 Child actvists under the banner of CETU and ILO demand strict implementation of the 1996 Supreme Court judgement against child labour at Jantar Mantar in New Delhi on Tuesday. Tribune photo
It's a govt of loot, jhoot and shoot in UP: Sonia
Dadri, September 30
Congress president Sonia Gandhi today lashed at the state government as a government of "loot, jhoot and shoot"— looting people, telling lies and shooting farmers who demanded land compensation—referring to the incidents of Ghori Bachhera in Greater Noida recently.
Congress has failed to provide basic amenities: Malhotra
New Delhi, September 30
Delhi Pradesh Bharatiya Janata Party's chief ministerial candidate Vijay Kumar Malhotra today claimed that the Congress-led Delhi government had done gross injustice to the people and betrayed them during its 10 years of rule, as it has completely failed to provide even the basic amenities like power and water to almost 63% of the residents of the Capital.
Residential Scheme-2004
PAN card no more compulsory
Noida, September 30
J.B. Patnayak, president of the committee constituted by the High Court for conducting draw of the Noida residential scheme — 2004 said that applications of 42,000 aspirants, including those not having PAN cards, would be included in the fresh draw.
No tax for swings at Ram Lilas
New Delhi, September 30
Delhi finance minister Dr A. K. Walia today announced that the city government had exempted all entertainment activities to be organised during the 10 days of Ram Lila at different places in the Capital city from entertainment tax.
BSES begins work on grid at Bakkarwala
New Delhi, September 30
Stone for the BSES next generation 66 kv Bakkarwala grid station was laid today by Mukesh Sharma, MLA, in the presence of area councillor, senior government and BSES officials led by its CEO Arun Kanchan.
Stone of 200-bed hospital in Chhattarpur laid
New Delhi, September 30
Delhi Chief Minister Sheila Dikshit today said her government had been striving hard to provide reliable and advanced medical care to the people at their doorstep.
Eye camp marks Scindia's anniversary
New Delhi, September 30
A free eye-test and cataract operation camp was organised today by the All India Congress Committee (AICC) member Devender Kumar to mark the seventh death anniversary of former union minister and Congress leader Madhav Rao Scindia.
Kavi sammellan tomorrow
New Delhi, September 30
Manavata Abhiyan, a socio-cultural organisation, is holding its 11th rashtriya kavi sammellan on October 2 in Malviya Nagar here, where Hindi as well Urdu poets will render their compositions.
Four held for human trafficking
Faridabad, September 30
Four persons, including a couple residing in the national Capital, have been arrested on the charges of sending people abroad for jobs after charging money.
Robbers loot cash, revolver, tractors and car
Grt Noida, September 30
About two dozen armed dacoits robbed a railway contractor and some workers of Rs 62,000, a revolver, three tractors and one Indica car. The dacoits had beaten them and had dumped them in fields after tying their hands and feet.