Renovation funds only for big houses?
Chandigarh, September 30
The city administration's venture to "convert" government houses into "luxury" houses seems to be restricted only for privileged ones.
| | |
| --- | --- |
| The broken steps of a 13-type house in Sector 28 of Chandigarh | The dilapidated balcony of a 13-type house in Sector 28, Chandigarh. Tribune photo: Parvesh ChauhanTribune photo: Parvesh Chauhan |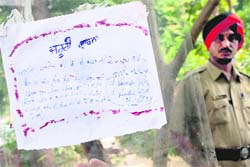 Commando hangs himself
Mohali, September 30
A 35 year-old commando of the Punjab police, Varinder, reportedly committed suicide by hanging himself at his house at the Commando Complex in Phase XI here late last night.




A suicide note of commando Varinder who allegedly committed suicide in Mohali on Monday night. A Tribune photograph

Realtors pin hopes on UT auction
Chandigarh, September 30
Reeling under severe recession, realtors in the city's periphery are pinning their hopes on the October 23 residential and commercial auction here in a bid to bolster their sagging fortunes.
Manimajra resident alleges police inaction
Chandigarh, September 30
Accusing the Chandigarh police of failing to take action against "erring" doctors of INSCOL Hospital, Sector 34, Manimajra resident J.S. Arora has shot off a letter to UT SSP S.S. Srivastva to look into the matter.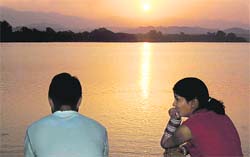 A newly-married couple enjoys the morning glory at Sukhna Lake in Chandigarh on Tuesday. Tribune photo: Karam Singh
Ban on polythene from tomorrow
Traders in a fix over paper bags
Chandigarh, September 30
Even as the ban on polythene carry bags will be enforced from Thursday, the traders in the city have made it clear that the customers will have to make arrangements on their own to carry home the commodities purchased from markets.
Training session on 'Red Ribbon Express' starts
Chandigarh, Sept 30
A four-day training workshop on "Red Ribbon Express (RRE)' started at the at the CYP Asia Centre here today.
Sarai Ke Pattan Bridge
Rs 12-crore budget increase in two years
Nurpur Bedi, September 30
The Sarai Ke Pattan bridge, meant to provide respite to 70 odd villages of the area, is caught grim into the war for political mileage. Since its proposal on inception, the budget of bridge has increased by Rs 12 crore in last two years.
Residents oppose move on Habitat Centre
Mohali, September 30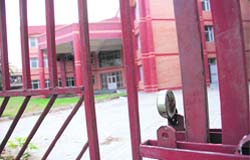 The Citizens Welfare Council has condemned the decision of GMADA to hand over the Habitat Centre in Phase X to the Institute of Nano Science and Technology for its camp office.




The Habitat Centre in Phase X, Mohali, which has been lying unused for the past several years. Tribune photo: Vicky Gharu
Ex-servicemen threaten stir
Chandigarh, September 30
Agitated over anomalies in the recommendations of the Sixth Pay Commission, the ex-servicemen of the northern states today threatened to take to streets and asked all the ex-servicemen to join hands to take on the government.
IT raid on apple wholesaler
Chandigarh, September 30
Income Tax officials have initiated a survey on an apple wholesaler of Sector 26 grain market here today under the supervision of income tax commissioner A.K. Kaushal.
Murder case solved, three arrested
Mohali, September 30
It was the intention of stealing a mobile phone that led to the murder of Davinder Kumar Sahota (20), an employee of Vodafone, last Saturday.
Workshop on healthy workplace
Chandigarh, September 30
The School of Public Health, PGIMER organised a stakeholder workshop on healthy workplace in collaboration with the Confederation of Indian Industry under the Government of India-WHO collaborative programme at CII headquarters at Sector 31 here today.
March for voluntary blood donation
Chandigarh, September 30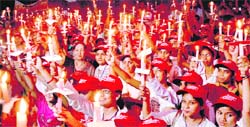 On the eve of National Voluntary Blood Donation Day, Blood Bank Society, Chandigarh, organised the candlelight march in collaboration with the State Aids Control Society and Blood Transfusion Council here today.
Volunteers on the eve of Blood Donation Day, in Chandigarh on Tuesday. A Tribune Photograph
Veterans back service chiefs
Chandigarh, September 30
Supporting the actions of the three service chiefs in their endeavour to remove the anomalies brought about by the implementation of the Sixth Pay Commission, a section of ex-servicemen rejected the three-member panel of cabinet ministers set up to look into the matter.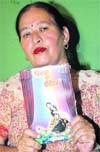 Short stories by Kulbir Kaur out
Chandigarh, September 30
An anthology of short stories in Punjabi "Zindagi da Theatre" by Dr Kulbir Kaur was released at a function organised by Punjabi Lekhak Sabha at the Press club here today. A prolific Punjabi poetess and author of four books, Dr Kulbir, has maintained her tradition of excellence in her new venture of sculpting short stories. All the eleven short stories depict the life in its varied manifestations with its manifold bounties and struggles illustrated through characters from various segments of society. Dr Kulbir Kaur
Installation ceremony of Lions Club
Zirakpur, September 30
More than 700 delegates from 166 clubs of District 321-F attended the installation ceremony of the district cabinet of governor Lion Kishore Verma. International director of Lions Clubs International, Bishnu Bajoria, was the chief guest.
Hundreds throng Mansa Devi temple
Panchkula, September 30
Hundreds of devotees from far-flung places converged at Mata Mansa Devi Shrine here on the first day of the Navratras today.
Letters
Remarks unkind


PU set to join big league
Applies for 'Universities with Potential for Excellence'
Chandigarh, September 30
Panjab University (PU) may soon find its place in the league of top universities of the country, which can match global standards, for the university has applied for the Universities with Potential for Excellence (UPE) scheme of the University Grants Commission (UGC) under the XIth five-year plan.
PU syndicate renames Ludhiana centre as UBS
Chandigarh, September 30
The issue regarding the name of the business school of Panjab University at regional centre, Ludhiana, reigned supreme at the Panjab University Syndicate meeting held here today.
SOPU president's admission cleared
Chandigarh, September 30
Finally relief came to the self-styled "kingmaker" and SOPU president, Brinder Dhillon, after the Panjab University syndicate at its meeting today cleared his admission to the three-year department of Laws.
Refused donation, school 'tears off' NRI student's answersheet
Mohali, September 30
An NRI student of Punjab Technical University (PTU) appearing for her semester examinations has alleged that her answersheet was torn up by employees of a private school here and replaced it with a blank answersheet when she refused to give donation to the school.
Students enact scenes from Ramayana
Chandigarh, September 30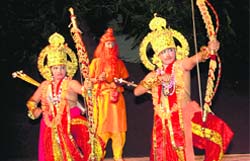 The students of Kailash Bahl DAV Senior Secondary Public School-7B, Chandigarh, performed a stage show today depicting the epics from Ramayana. The show was supported by high-tech light and sound effects.




Students of KBDAV Sector 7 perform Ramlila in Chandigarh on Tuesday. Tribune photo: Manoj Mahajan