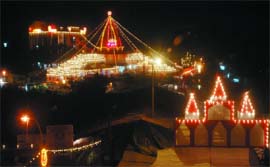 The illuminated Jhandewalan Mandir in New Delhi on Wednesday. Tribune photo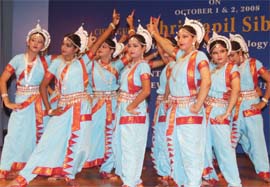 Students of DAV Public School, Gurgaon, perform the Saraswati Vandana during a bharatnatyam show on Wednesday. Tribune photo: Rajesh Yadav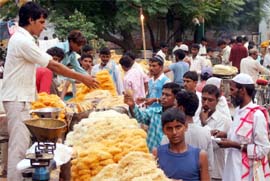 Eid greetings: Devotees purchase sevaiyan on Wednesday . Tribune photo: Rajesh Yadav
2 armymen, engineer held for Noida bank heist
Noida, October 1
With the arrest of two armymen and one engineer, the Noida police claims to have solved a sensational bank robbery case, where the robbers had decamped with Rs 10.80 lakh. The three were arrested on Tuesday evening.
Aarushi Murder
CBI restarts probe; questions Talwars, Durranis
Noida, October 1
The Central Bureau of Investigation (CBI) appears to have started a fresh investigation into the Aarushi-Hem Raj murder case on Tuesday when a 10-member team of the investigative agency visited a guesthouse in Sector-38 (A) at 12 noon. The CBI team carried on the interrogation till 6 p.m.
Tableau depicts Sheila govt's 'misdeeds'
New Delhi, October 1
Two days before the distribution of certificate of provisional authorisation by the Delhi government, the Unauthorised Colony Mahasangh today flagged off its campaign in the Capital with a "tableau" specially designed on the misdeeds of the Congress government in Delhi.
Doctor found dead in hostel
New Delhi, October 1
A 26-year-old doctor was found dead in his hostel room at the Lady Hardinge Hospital here on Wednesday, police said. Navneet Prasad, pursuing a Masters in orthopaedics, was found lying dead on his hostel room bed at 12.45 pm. Prasad hailed from Aurangabad in Bihar.
International Day of Elder Persons
Elders crave for love and care
New Delhi, October 1
Vidyuai is 84, a woman and a tsunami victim. She lost her family and all she possessed in the disaster. She has never travelled by train before and not even gone out of her remote village in Cuddalore district in Tamil Nadu.
Nai Dunia launches Delhi edition
New Delhi, October 1
The national Capital has one more Hindi daily as central India's popular Nai Dunia launched its edition here today.
Jamia to build more hostels
New Delhi, October 1
Due to the harrowing time Jamia students are having in Jamia Nagar with landlords not ready to keep them, the university has decided to open new hostels to deal with the problem.
GDA to launch scheme for 5,000 EWS houses today
Ghaziabad, October 1
The Ghaziabad Development Authority (GDA) has decided its launch its Madhuban Bhapu Dham residential scheme under which plots will be allotted in Madhuban, while builders are also expected to build a township in Sadarpur.
Sulabh among top 50 business models targeting poor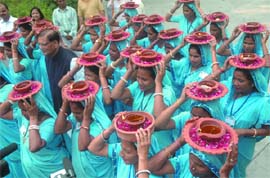 New Delhi, October 1
The United Nations has chosen Sulabh International among world's 50 most successful business models targeting poor. Sulabh International, India's largest NGO on low-cost sanitation, features in the United Nations Development Programme's latest report — 'Creating value for all: Strategies for doing business with the poor.'
Liberated women scavengers from Alwar with Bindeshwar Pathak, founder of Sulabh International, on the eve of Gandhi Jayanti in New Delhi on Wednesday. Tribune photo: Mukesh Aggarwal
Govt assures water supply in colonies
New Delhi, October 1
Chief Minister Sheila Dikshit yesterday said that the Delhi Jal Board (DJB) would accelerate laying of water and sewer lines in unauthorised colonies before the commencement of Commonwealth Games 2010.
Robbers loot cash, revolver, vehicles
Grt Noida, October 1
About two dozen armed dacoits robbed a railway contractor and some workers of Rs 62,000, a revolver, three tractors and one Indica car. The dacoits had beaten them and had dumped them in fields after tying their hands and feet.
1 held with Rs 45,000 fake notes
New Delhi, October 1
The North Delhi police has seized 90 counterfeit Indian currency notes worth Rs 45,000 from Naushad. The notes were in the denomination of Rs 500.