EC announces poll in 5 states
Ajay Banerjee
Tribune News Service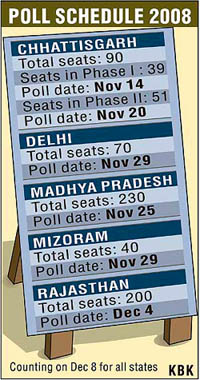 New Delhi, October 14
The Election Commission today announced the assembly poll schedule for five states — Delhi, Rajasthan, Madhya Pradesh, Mizoram and Chhattisgarh — but remained undecided on Jammu and Kashmir that is currently under President's rule.
Chhattisgarh will have two-phased elections on November 14 and 20, while Madhya Pradesh and Rajasthan will have one-day poll on November 25 and December 4, respectively. Congress-ruled Delhi and Mizoram will have elections on November 29. Counting of votes will take place in all states on December 8.
The model code of conduct comes into force with immediate effect, said the Election Commission.
These will be the last assembly elections before the nation faces the General Election early next year.
The polls, though coming at the expected time, will set the benchmark for gauging the nation's political mood and could well be a prelude to the forthcoming battle.
Three of these states, Rajasthan, MP and Chattisgarh, have the BJP governments in place while the Congress is the ruling party in Delhi for the past 10 years. In Mizoram, the Mizo National Front is in power. Chief Minister Zoramthanga is among the group that "managed" to initiate a dialogue between Naga rebels and the government of India. The Congress forms the opposition in that state.
Polling will be conducted using electronic voting machines and all these states have electoral rolls that carry photo of each voter. Those who have been provided with photo ID cards will be allowed entry only on that basis. The making of the cards of the remaining voters will be done on a priority. All critical events shall be videographed. The commission has issued detailed guidelines for video coverage during the election process and polling at all vulnerable polling booths on the poll day. Digital cameras will also be deployed inside the booths wherever needed.
The commission said it would deploy 650 observers to ensure smooth conduct of forthcoming elections in these states. In addition to the general and expenditure observers, the commission will also deploy micro-observers selectively. They will be appointed from amongst the central government officials available locally in the states. They will be stationed at specific locations housing one or more polling stations and keep close watch on proceedings on the polling day. These micro-observers would directly work under control and supervision of the general observer.