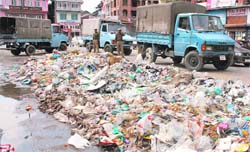 Garbage continues to pile up in front of shops in a market of Srinagar as the stalemate between the Municipal Corporation and Achan residents over its dumping continues for the fourth consecutive day on Thursday.
Tribune photo: Mohd Amin War
Panthers Party flays PDP, NC
Jammu, October 16
The Panthers Party has blamed the National Conference and the PDP for sacrificing their political ideology on the altar of "political and poll expediency."
BSP seeks recall of Kashyap, Chouhan
Jammu, October 16
BSP office-bearers have supported the plea of state unit chief Yash Pal Bhagat to party supremo Mayawati to call back the party's national general secretary Narinder Kashyap and coordinator B.S. Chouhan from the state.
Time to revive old linkages with nations: Vohra
Srinagar, October 16
Governor N.N. Vohra has stressed the need to energise old linkages with the neighbouring countries.
Joint trade chamber for state, PoK
Srinagar, October 16
The week-long visit of the 19-member delegation of traders from PoK led by president of the Chamber of Commerce and Industries, Zulfikar Abbasi, concluded with the return of the delegation via the Srinagar-Muzaffarabad road today.

Govt clears air over bridge's capacity
Militant shot as Army foils infiltration bid
Jammu, October 16
Though the incidents of ceasefire violation by Pakistan and infiltration attempts have been on the rise, the Army continues to downplay these.
Fear grips residents as Chenab water level soars
Khelani (Doda), October 16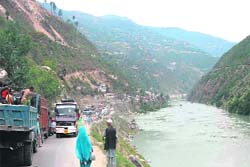 Fear has gripped the inhabitants of Doda and Kishtwar as the water level in the Chenab is rising and there is an inordinate delay in the construction of a road linking these two districts with the state.



A view of vehicles stranded at Pul Doda on the national highway due to the construction of a link road above the Pul Doda market. Photo by writer
5 killed, 22 hurt in road mishaps
Udhampur, October 16
Three persons, including a father and his son, were killed in a road accident at Chanderkot today. The third person was the supervisor in the company engaged in the construction of the Baglihar hydroelectric project.
SHRC orders Rs 70,000 relief for scribe
Srinagar, October 16
The State Human Rights Commission (SHRC) has directed the administration to pay a compensation of Rs 70,000 to a journalist and human rights activist, who was brutalised by unidentified people last year.
Financial crisis casts shadow on festive season
Jammu, October 16
It seems Diwali will be a dull affair for all those planning to purchase white goods to cash in on the offers of the festive season as the ongoing financial crisis has forced many companies not to come out with attractive schemes and discounts.
Tatapani spring reappears
Rajouri, October 16
In a miraculous development, waters in the famous Tatapani spring located in the Kalakote tehsil here has resurfaced. The hot water spring is believed to have magical powers of healing certain ailments, including joint pains.
Trust to use art to popularise ayurveda
Jammu, October 16
The Trust for Reviving Ancient Indian Therapies (TRAIT) has decided to take help of art and craft to popularise Ayurveda.
Sikhs in valley not under threat, says SAD (A)
Jammu, October 16
The Shiromani Akali Dal (Amritsar) today pooh-poohed the reports in a section of the media about Sikhs in the valley being concerned about their security.
3 held with 120 kg poppy
Jammu, October 16
Three persons were arrested on Thursday with 120 kg poppy at the Jammu-Pathankote highway in Samba district.
Geelani undergoes surgery
New Delhi, October 16
Pro-Pakistan separatist Syed Ali Shah Geelani underwent an operation at a city hospital to replace his pacemaker.
Tributes paid to students
Jammu, October 16
Rich tributes were paid to students, who sacrificed their lives in 1966 while demanding the establishment of a separate university, engineering, medical and law college in the Jammu region.