Custodial death of 3 cops
Rights panel asks DGP to submit progress report
Chandigarh, October 18
Taking cognisance of a complaint filed by an advocate, the Punjab State Human Rights Commission has directed the DGP, Punjab, and SSPs concerned of Jalandhar, Kapurthala, Hoshiarpur, Nawanshahar, Taran Tarn and Amritsar districts to submit a progress report on the arrest of 25 "absconding murder accused police officials", who have been declared "proclaimed offenders" (POs) by the CBI Special Court, Patiala.
Hoshiarpur boy comes home in a coffin
Had immigrated to Syria 7 months back; family cries murder
New Delhi, October 18
Sarwan Singh nearly collapsed as his son's body was being offloaded from cargo at the Indira Gandhi International Airport here today. It was for him a moment of tragedy - a tragedy his friends had warned him against when he was thinking of sending his 18-year-old son abroad.
BJP to take part in farmers' rail roko stir
Sangrur, October 18
The district unit of the Bharatiya Janta Party (BJP) has decided to extend support to farmers' unions by way of participating in their agitations like rail roko andolan, against "anti-farmer" policies of the Centre and announcement of a meager bonus (Rs 50 per quintal) on paddy.
'PM doesn't need Sidhu certificate'
Chandigarh, October 18
Senior Congress leader M.M. Singh Cheema yesterday accused BJP MP, Amritsar, Navjot Singh Sidhu of resorting to "cheap popularity" by alleging that Prime Minister Manmohan Singh had not done anything for Amritsar whereas the facts spoke otherwise.
Dhindsa for action against erring officials
Sangrur, October 18
PWD (B&R) minister Parminder Singh Dhindsa today directed the Sangrur deputy commissioner to initiate action immediately against those officials of procurement agencies, arhtiyas, truck operators and rice millers who intentionally create hurdles in the paddy procurement work.


Wheat that could have fed thousands left to rot
Ludhiana, October 18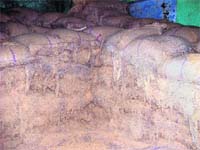 Block Development and Panchayat Office, Pakhowal, near here, has stored around 600 qunitals of wheat at its rest house for the past two years. The wheat supply had been received under the Sampoorna Grameen Rozgar Yojna and was to be distributed among panchayats.



Rotting wheat bags stacked at Block Development and Panchayat Office, Pakhowal. Photo: Inderjeet Verma
'Paddy bonus a cruel joke'
Jalandhar, October 18
The bonus of Rs 50 on paddy announced by the Centre was a cruel joke on farmers of the state. Satnam Singh, president, Jamhoori Kisan Sabha, told TNS that successive governments had ignored grievances of the farmers, especially from Punjab. "While other states get royalty for their natural resources, we are being unfairly targeted by not being given remunerative prices for our produce," he alleged.
Farmers to get over 8.9 lakh quintal quality wheat seed
Jalandhar, October 18
The government will provide 8,99,329 quintals of quality wheat seed to farmers in the forthcoming rabi season.
Farmers demand Rs 22 lakh per acre
Sangrur, October 18
Farmers of the Ghaggar area of Khanauri-Moonak belt, whose land, about 670 acres, had been acquired by the government for widening the Ghaggar and construction of embankments under the Ghaggar project, are a disappointed lot as they feel that the state government has given them meagre compensation.
A village of foundation stones
Chak Fateh Singh Wala (Bathinda), October18

This small village having family connection with Punjab Chief Minister Parkash Singh Badal is dotted with a string of foundation stones laid as far back as 37 years ago and still waiting for the works to be taken in hand.


The foundation stone for a hospital laid in 1971 in village Chak Fateh Singh Wala by Surinder Kaur, wife of Chief Minister Parkash Singh Badal, stands alone on a piece of panchayat land. Tribune photo: Kulbir Beera
'Scrap controversial residential scheme'
Farmers allege Badal gave 87 acres to colonisers from the Amritsar Improvement Trust Scheme
Chandigarh, October 18
Farmers whose land is due for acquisition under the controversial Amritsar Improvement Trust residential-cum-commercial scheme has alleged that if the previous Capt Amarinder Singh-led government had favoured a private builder, the SAD-BJP government preceding him had also ignored the advice of the Improvement Trust and sliced off 87 acres from the scheme.
Accident victim dies due to 'negligence'
Nabha, Octber 18
An accident victim lost his life today in the local civil hospital for lack of medical assistance. The victim kept writhing in pain and his condition kept on deteriorating in the night but no doctor or paramedical staff came to his help. Rajinder Singh (38), a local resident, and his wife were taken to hospital on Friday after being hit by a Maruti car on the Nabha-Chhintawala road.
Antelope found shot dead, minister orders probe
Anandpur Sahib, October 18
An antelope was found shot dead in forests of Surewal village here today. Villagers came across the dead animal at around 4 am. Activists from an NGO, People For Animals (PFA), also reached the spot. District president of the PFA Shiv Kumar Sharma said poaching had been going on in the area for quite sometime. He added that the organisation had duly informed the Wildlife Department about the issue, but the department never initiated any action. He claimed that this was the third time a wild animal was shot dead. Earlier, two such incidents had come to light.
PWD to be computerised
Chandigarh, October 18
Punjab is all set to fully computerise the PWD (B&R) to monitor ongoing projects and bring transparency in the working of the department.
'Ineligible' person continues as varsity director
Patiala, October 18
Punjabi University, Patiala, has achieved a dubious distinction, not for its achievements in education or sports arena, but for appointing an "ineligible" person as its director (physical education) and then allowing him to continue to 'usurp' the top sports slot for more than three years and till date.


HC raises doubts about inquiry
Chandigarh, October 18
In a quick turn of events in the rape case against the director of Frontier Bicycles, Narinder Singh, the Punjab and Haryana High Court has raised serious doubts about the inquiry conducted by the then SSP Fatehgarh Sahib, Silabh Kishore.


Acid Attack on Woman
SHO removed; accused's remand extended
Moga, October 18
In the acid attack case on a Dalit rape victim, the SHO concerned has been removed from the police station (rural) while a local court has extended the police remand of all three accused for another day.
2 women, child nabbed with fake visas
Amritsar, October 18
Two women, along with a child, managed to cross over to Pakistan by the Samjhauta Express where they were caught by the Pakistan immigration authorities for possessing fake visas.