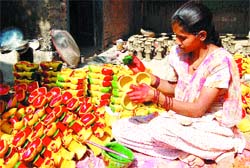 With Divali round the corner, the demand for earthen lamps has shot up. Photo: Vishal Kumar
'15 pc of B'desh population is in India as illegal immigrants'
Amritsar, October 21
Illegal Bangldeshi immigrants are posing a serious security threat to the country and influencing the state polity in northeast states, which have seen a heavy influx of these migrants into the states bordering Bangladesh.
'Bhagat Singh's popular image overshadows his real ideology'
Amritsar, October 21
The independent thought process, philosophy and idealism of great son of soil Bhagat Singh has been buried under the shadow of his martyrdom and its impact on the freedom revolution in the country which has been popularly projected by modern historians.
Lahore drummers in awe of guru land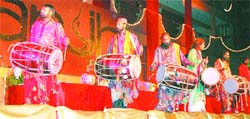 Amritsar, October 21
Overwhelmed by the visit to Amritsar, members of Panjtani, a famous dholi group from Lahore, said performing in the holy city - which is also the hometown of their legendary guru Ustad Mohammad Shafi - was a dream come true.
Famous dholi group from Lahore Panjtani performs at Saanjh festival in Amritsar. Photo: Vishal Kumar
Yaadgari mela ends on high note
Amritsar, October 21
Rural festivals provide an excellent platform to the young artistes to showcase their talent. This was stated by minister for information and public relations Bikram Singh Majithia while presiding over the final day proceedings of Prof Mohan Singh Yaadgari Mela at Sangatpura village here on Monday.
Akbar Ali: My life changed after Junoon...
Amritsar, October 21
My life has been changed after participation in "Junoon Kuch Kar Dikhane Ka", a reality singing show aired by NDTV Imagine, where everyone appreciated my talent and singing style, said Akbar Ali.
Jasbir Jass: He excels in children's literature
Amritsar, October 21
The recipient of the Punjab Languages Department's Shiromini Bal Sahit Award, Jasbir Singh Jass, a teacher, versatile writer and journalist, is widely known for his writings for children in a simple, interesting and encouraging style.
School Buzz
A unique Divali gift for Ram Ashram school
Amritsar, October 21
The students of Shri Ram Ashram Public School today presented a unique Diwali gift to their institution. The students prepared handicraft items which were put on sale at a fun fair organised by the school and money collected in it was handed over to the principal Preeti Sharad, who said it be used to upgrade library facilities.
Campus Pulse
Non-teaching employees' body poll tomorrow
Amritsar, October 21
The annual elections to the Non-Teaching Employees Association of Guru Nanak Dev University would be held on October 23.
Dinanagar college is youth fest champion
Amritsar, October 21
The three-day zonal youth festival (b-zone) of Guru Nanak Dev University concluded here on Tuesday.
BSNL relaunches student power plan
Amritsar, October 21
Bharat Sanchar Nigam Ltd (BSNL) has relaunched the student power plan here under which the students could make calls at 40 paise per minute within the BSNL network besides sending unlimited free messages within Punjab.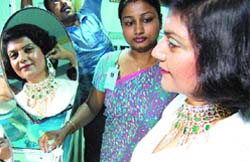 Biz Buzz
Splash on Lawrence Rd
Lucky winner
Diamond mela
Festival offer