CM visits ADC's bereaved family
Amritsar, October 21
Chief Minister Parkash Singh Badal today visited the bereaved family of ADC Kirpal Singh, who died of renal failure at a private hospital at Mohali yesterday for want of a kidney.
Akali MLA honours kin of slain militants
Amritsar, October 21
The honouring of the kin of slain militants by Akali MLA Malkit Singh AR at a public function at Sultanwind village, once called "Mini Khalistan", has evoked a mixed response from the SAD, BJP and radical Sikh outfits.
MC poll: 4 hurt in police lathicharge
Sujanpur (Gurdaspur), October 21
Even as two municipal councillors belonging to the BJP were elected president and vice-president of the local Municipal Council (MC), Congressmen alleged that the police resorted to lathicharge and SDM-cum-observer Avinabh Trikha did not entertain their objections to facilitating the BJP to have control over the civic body.


Govt apathy to blame for unpicked paddy, says Amarinder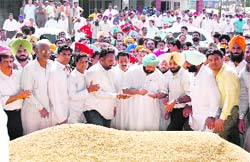 Ludhiana, October 21
Paddy lies unpicked in mandis all over Punjab because of government apathy and manipulation by certain arhtiyas, backed by the government, in lifting the bumper yield this year, affecting hundreds of hapless farmers, said Capt Amarinder Singh, former Chief Minister, while addressing a press conference here today. The paddy, in case it is unpicked for about a week, tends to get spoilt.
Former Chief Minister Capt Amarinder Singh at the Khanna grain market on Tuesday. A Tribune photograph
Militancy cannot revive in state: DGP
Shahkot (Jalandhar), October 21
Though infiltration from across the border continues at regular intervals to revive terrorism in Punjab, in the absence of public support, militancy cannot raise its ugly head again, claimed director-general of the Punjab police N.P.S. Aulakh.
Cabinet approves business school for Mohali
Chandigarh, October 21
The Punjab Cabinet has in principle approved the setting up of Indian School of Business (ISB) at SAS Nagar and granted clearance for leasing out 70 acres of land in knowledge city, Sector 81, Mohali, to the ISB and four founder-supporter institutions viz. the Bharti Institute of Public Policy & Administration, Hero Institute of Manufacturing Science, Max India Institute of Healthcare Management and Punj Lloyd Institute of Physical Infrastructure Management.
CCI will enter mandis in Punjab: Lakhowal
Chandigarh, October 21
The Union government has assured to direct the Cotton Corporation of India (CCI) to enter mandis where it has not started cotton purchase in Punjab to ensure minimum support price to farmers of the state.
Parents' divorce case mars girl's ring ceremony
Nawanshahr, October 21
In a bizarre incident, the ongoing divorce proceedings between a couple nearly played a spoilsport at the ring ceremony of their daughter at Gorakhpur village here on Sunday.
'Sikhism needs renaissance'
Chandigarh, October 21
The president of the Guru Gobind Singh Foundation, Dr Jasbir Singh Ahluwalia, today said there was a need for a second Sikh renaissance to enable the community to take on the present-day challenges as the institutional growth of Sikhism had slowed down over the past eight decades.


Stay on Chahal's non-bailable warrants
Chandigarh, October 21
B.I.S. Chahal, ex-media adviser of former Chief Minister of Punjab, has got relief from the high court. Taking up his petition, Justice Mohinder Pal has asked the trial court to admit him on bail after he surrenders.