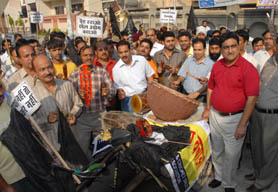 Sports goods makers clamour for scrapping of VAT
Jalandhar, October 21
Demanding VAT exemption on sports goods, the members of Khel Udyog Sangh organised a protest march from Basti Nau to the house of Mohinder Bhagat, chairman of medium industry board and his father MLA Bhagat Chunni Lal on Tuesday morning.
Members of the Khel Udyog Sangh hold a musical protest in Jalandhar on Tuesday.

3000 cases likely to be disposed off
Mega lok adalat to ease backlog
Kapurthala, October 21
Nearly 9,500 cases are pending in different courts of Kapurthala district. The pendency of cases is likely to be reduced as one-third of the cases are likely to come up in the proposed mega lok adalat on December 20 and 21.
Young World
Talent on show at Apeejay function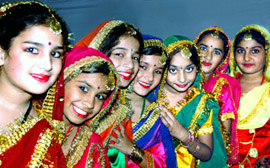 Jalandhar, October 21
The Apeejay Institute of Management, Hoshiarpur Road, Jalandhar, organised a two-day annual academic, cultural and sports meet which concluded on Sunday. More than 200 students participated in 40 events, including quiz, paper presentation, skit, fashion show, cricket, badminton and chess.
SAY CHEESE: Participants during the KMV School annual function. Photo: Suryakant
Technical lectures from Oct 23
Jalandhar, October 21
The Dr BR Ambedkar National Institute of Technology will begin a series of technical lectures from October 23.