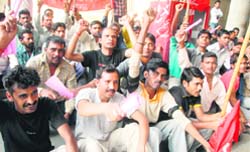 Safai karamcharis stage a protest in support of their demand for Diwali bonus at Government Medical College and Hospital, Sector 32, Chandigarh. Tribune photo: Vinay Malik
UT amends allotment scheme for institutes
Chandigarh,October 24
While amending the allotment scheme for the institutions, the Chandigarh Administration has renamed it as "Allotment of land to various bodies/associations/trust /organisations of religious, charitable, cultural, social nature and governments/semi-government organisation and its autonomous bodies on leasehold basis in Chandigarh, (Amendment) Scheme, 2008."
Close down dept of evening studies: NAAC
Chandigarh, October 24
The department of evening studies, Panjab University, is in the eye of the storm again as the National Accreditation and Assessment Council (NAAC) team has suggested the varsity to close down the department as it has "outlived its utility".
Life term for killing husband
Panchkula, October 24
Additional district and sessions judge Sanjiv Jindal today sentenced Sehlata, wife of Padam Singh a caretaker at a farmhouse, to life imprisonment for murdering her husband. A fine of Rs 5,000 was also imposed on her. The failure in depositing the amount of fine would attract additional imprisonment of five years.
A clarification
Chandigarh, October 24
Reacting to the news item, "Beauty business turns ugly for entrepreneur", published in these columns on October 10, Richfeel Health and Beauty Pvt. Ltd. has claimed that provision for monopoly rights for the tricity does not exist in the agreement with the franchise.




Pre-natal Act fails to curb foeticide, say experts
Chandigarh, October 24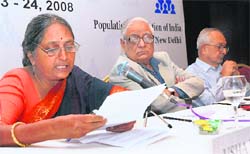 The Pre-natal Diagnostic Techniques (Regulation and Prevention of Misuse) Act, which prohibits pre-natal sex determination tests, has failed to achieve its goal in curbing female foeticide.

H.K. Dua, Editor-in-Chief, The Tribune, flanked by Usha Rai (l) and B.G. Verghese at the concluding session of the conference on Population Health and Social Development on Friday in Chandigarh. A Tribune photograph
Water supply bylaws to be amended
Chandigarh, October 24
The Finance and Contract Committee of the municipal corporation has approved a proposal to amend the bylaws for supplying water to Mother Teresa Home, Chandi Kusht Ashram and Deaf and Dumb Institutes at the rate of Re 1 per month. The decision was taken at a meeting chaired by mayor Pardeep Chhabra yesterday.
DSP to regulate traffic
Chandigarh, October 24
The Punjab and Haryana High Court wants the traffic to flow smoothly on the Zirakpur-Parwanoo stretch of the Shimla highway.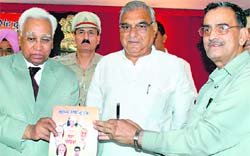 Haryana Governor A.R. Kidwai (left) releases a book on Chief Minister Bhupinder Singh Hooda at Raj Bhawan
in Chandigarh. A Tribune photograph
IGP holds crime review meeting
Chandigarh, October 24
Motor vehicle thefts have risen by 32 per cent this year as compared to 2007 while snatching cases have increased by 16 per cent. However, the police today claimed that the crime against person was on decline during the past nine months this year.
Street kids celebrate Diwali
Chandigarh, October 24
The children who are seen begging at traffic lights were today beaming with confidence as they staged performances in their glowing uniforms.
1 month on, shopkeepers await possession
Mohali, October 24
Even as pucca booths constructed at a cost of Rs 3 crore by PUDA about five years ago gather dust, fire-hit shopkeepers of Janta Market here are eagerly waiting to shift their business to the concrete structures.
Mutations in Land Record
Dubey for disciplinary action against revenue officials
Mohali, October 24
Financial commissioner (revenue) Romila Dubey has recommended disciplinary action against revenue officials who executed mutations in land record of about 500 acres at Mullanpur Garibdass village here.
Be ready to spend more this Diwali
Chandigarh, October 24
For cracker lovers, this Diwali might not be as glittering as it used to be. The rockets that burst into stars and illuminate the sky during the festival of light are all set to make a big hole in people's pocket.
Councillors condemn MC employees
Mohali, October 24
As many as 15 councillors condemned employees of the Municipal Council for raising slogans against them when they had raised their voice against the executive officer (EO) for allegedly shielding a corrupt employee.
PB 65 H 6565 goes for Rs 96,000
Mohali, October 24
The second phase of the auction of fancy vehicle registration numbers was held at the office of the district transport officer, Mohali, here today. The auction was held for the PB 65 H series from 0101 to 0999.
LPG shortage irks residents
Chandigarh, October 24
The shortage of LPG cylinders in the city has made the life people miserable, as even after waiting for long hours in a queue one is not sure getting a refilled cylinder.
e-Sampark centre in Sec 17
Chandigarh, October 24
UT administrator S. F. Rodrigues launched an e-Sampark centre at the Central Treasury in Sector 17 here today.
Exhibition opened
Chandigarh, October 24
An exhibition-cum-sale by women entrepreneurs began today at Gulati Bhawan, Sector-34.
Max New York Life opens office
Panchkula, October 24 Max New York Life opened its first sales office in Sector 11, here, today. The company has a countrywide network of 443 offices across 27.
Fee driving litigants away
Chandigarh, October 24
After paying lofty fee to city-based lawyers, litigants are now reluctant to pay Rs 4,000 to mediators at the Mediation Centre that was inaugurated five months ago at the district courts.
Four DSPs transferred
Chandigarh, October 24
The UT IGP today ordered the transfer of four DSPs while giving posting orders to the newly appointed DSP with immediate effects.
Young maestros liven up Sangeet Sammelan
Chandigarh, October 24
The 31st Chandigarh Sangeet Sammelan got off to a melodic start with young virtuoso Arshad Ali giving a melodic start to the annual event organised by the Indian National Theatre at Randhawa Auditorium here today.
Charge sheet in Dimpy murder case submitted
Chandigarh, October 24
The UT police submitted a charge sheet against Jaswinder Singh, alias Rocky, in the sensational blind murder of "gangster" Prabhjinder Singh Dimpy in judicial magistrate Sumit Ghai's court today.
UT staff to get pay on Oct 27
Chandigarh, October 24
Due to the rush of bills and claims pertaining to the salary for the month of October, DA arrears as well as the festival advances, the Central Treasury will remain open on October 25, a gazetted holiday.


Students take out anti-cracker rallies
Chandigarh, October 24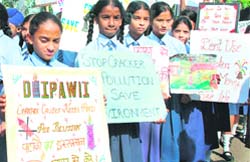 The Camphor Eco Club of Government Model Senior Secondary School, Sector 35, organised an anti-cracker rally and painting completion today. As many as 100 club members marched with placards in their hands giving the message that we should not burst crackers on the occasion of Diwali for protection of our environment.
Students during an anti-cracker rally organised by Government Model Senior Secondary School, Sector 35, Chandigarh, on Friday. Photo: Himanshu Mahajan
NIPER scientist gets Indo-EU project
Mohali, October 24
A prestigious Indo-European Union (Indo-EU) FP7 research project has been awarded to Prof Prati Pal Singh of the National Institute of Pharmaceutical Education and Research (NIPER), SAS Nagar, for his research project "New Approaches to Target Tuberculosis."
PU heritage youth fest ends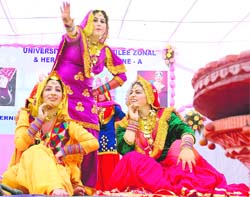 Chandigarh, October 24
The four-day Panjab University Diamond Jubilee Youth and Heritage Festival, Zone B, concluded at Government College, Sector-46, today.





Students perform on the last day of the PU youth festival at Government College, Sector 46, Chandigarh, on Friday. A Tribune photograph
Tiny tots of Saupin's mesmerise audience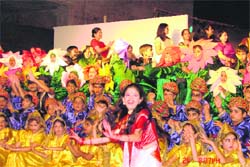 Panchkula, October 24
Saupin's School, Panchkula, organised its annual function for students of Play Group to Class II here today. Around 400 students took part in the function titled 'Saupinite Symphony' organised at Indra Dhanush auditorium, Panchkula.

Students of Saupin's school, Sector 16, Panchkula, in annual function of the school at Indra Dhanush auditorium in Panchkula on Friday. A Tribune photograph
Plan to turn Stu C into'no-vehicle zone'
Chandigarh, October 24
Waking up to the need of checking the entry of outsiders on the Panjab University campus, the authorities are now planning to make the Students' Centre, which has of late turned into a "fight centre" given the number of brawls that have taken place, a "vehicle-free zone."