Nanded to be Hazur Sahib
Varinder Walia
Tribune News Service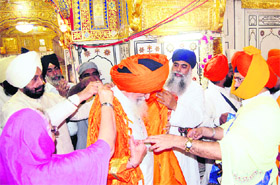 Jathedar Kulwant Singh ties a turban on Tamil Nadu Governor Surjit Singh Barnala at Takht Hazur Sahib on Friday. Photo: Vishal Kumar

Hazur Sahib, October 24
The Maharashtra government is contemplating renaming Nanded, situated on the Godavari, as Hazur Sahib Nanded to commemorate the tercentenary celebrations of Gurta Gaddi Divas and Parlokgaman of the 10th Sikh master, Guru Gobind Singh.
Nanded district, also known as Nanded-Waghla, is famous as Hazur Sahib, one of the five Takhts.
This is the city where in 1708, Guru Gobind Singh left for heavenly abode.
It is Marathwada's second most important city after Aurangabad.
After the tercentenary celebrations, the area will be developed so as to make it one of the biggest cotton-growing areas of the country.
Former chairman of National Minority Commission Tarlochan Singh said the Centre, especially the railways ministry, had agreed to rename Nanded's railway station after Hazur Sahib in tributes to Guru Gobind Singh. The city is also called Abchalnagar (unshakably rooted).
Meanwhile, tercentenary celebrations have generated a lot of enthusiasm among foreigners. Clad in spotless white clothes and blue robes, a number of converted Sikhs from the US, Latin America, Mexico, Chile and Brazil have started thronging Takht Hazur Sahib. Bhai Satpal Singh, ambassador of Sikh Dharma and chairman of Guru Ram Das Mission, said most of the converted Sikhs from these countries were visiting India for the first time. They would visit other four Takhts, Golden Temple and other Sikh shrines in Punjab and other parts of the country.
He, however, rued the mission had to reduce the number of jathas of foreign Sikhs because the management of Takht Hazur Sahib was unable to provide sufficient number of rooms to them.
A major function is being organised by the US-based mission on October 26 at Kusum Hall here, which would be attended by all five Sikh high priests. Maharashtra's minister of industries and mines Ashok Shanker Rao Chavan will be the chief guest.