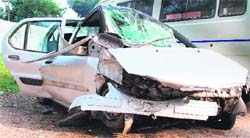 3 killed in accidents
Chandigarh, October 29
Prabhat Sharma (45) was killed after his motorcycle rammed into Matka Chowk here tonight.


A car that was damaged in an accident lying at the Sector 11 police station in Chandigarh. A Tribune photograph
Sarpanch's brother murdered
Fatehgarh Sahib, October 29
Kartar Chand (40) of Mehdudan village was murdered this afternoon and his son was seriously injured as a fallout of poll rivalry.
Man posing as food inspector booked
Chandigarh, October 29
A man, who was trying to fleece shopkeepers at the Sector 40 market, posing as a food inspector, landed in police net here yesterday.




Employer to pay benefits during national service mobilisation
Lt-Col gets due benefits, Rs 25,000 as compensation
Chandigarh, October 29
In a unique case, the Chandigarh District Consumer Disputes Redressal Forum has come to the rescue of a Territorial Army (TA) volunteer whose parent employer stopped contributing towards the employees' contribution when he was mobilised for national service.
Cases against housing societies on rise
Chandigarh, October 29
With the spurt in various well-heeled companies trying their hand at erecting and selling flats, the cases against the housing societies and builders for not allotting the flats to the allotees after taking the earnest money is on the rise.
CHB residents complain of muddy water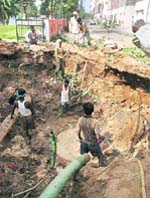 Chandigarh, October 29
Residents of the Chandigarh Housing Board Colony, Sector 55, have been facing acute shortage of clean drinking water for the past two days. They have alleged that the water being supplied to them is muddy. CHB Residents' Welfare Association chairman B.R. Rangara said muddy water was being supplied to residents of the area. Every time they opened their taps, they got water contaminated with mud, he alleged. Even water purifiers installed in the houses had jammed due to this, he alleged.


Workers repair a pipeline in Sector 55, Chandigarh, on Wednesday. Tribune photo: Pervesh Chauhan
It was Diwali with a difference for legal fraternity
Chandigarh, October 29
Over two months after the cash scam sent shock waves across the judiciary, some "light" ripples were felt by the legal fraternity during the Diwali celebrations.
Goods worth lakhs gutted

Chandigarh, October 29
Garments worth lakhs of rupees were gutted in a major fire that broke out in a leading garment shop near Sector 17 plaza on Tuesday evening. Short-circuit is believed to be the reason behind the fire.



Firemen break shutters of shops to control fire in Chandigarh on Tuesday. Photo: Manoj Mahajan
Fire destroys property worth Rs 35 lakh at Bata
Mohali, October 29
Fire broke out in a company showroom of Bata in Phase III B 2 here last night damaging shoes and other items worth lakhs of rupees.
Tagore Theatre reopens
Chandigarh October 29
Punjab Governor and UT administrator S.F. Rodrigues today inaugurated the renovated Tagore Theatre in the presence of theatre personalities and art lovers.
Dancers mesmerise audience
Chandigarh, October 29
After a long wait, the fully renovated Tagore Theatre opened today with new look as the artistes, both young and old, brought alive the diverse cultures of the region in their exuberant performances.
Suchitra Mitra with her troupe perform Bharat Natyam, Artistes perform bhangra on the inauguration of Tagore Theatre in Sector 18, Chandigarh, on Wednesday. Tribune photo: Parvesh Chauhan
Fireman's ex gratia case
Benefactor who — MC or Admn?
Chandigarh, October 29
While the Chandigarh municipal corporation is set to move the compensation case of fireman Amarjit Singh Mavi, who died on October 14 after getting badly burnt in a fire-fighting operation, to the Chandigarh administration, doubts are being raised over whether the administration will accede to the request and release the amount or not.
Dimpy Murder Case
Prime suspects yet to undergo narco test
Chandigarh, October 29
Even two years after the murder of Prabhjinder Singh Dimpy, who was gunned down by sharpshooters near Sukhna Lake in July, 2006, the Chandigarh police has failed to subject any of the prime suspects in the case to narco test.
Ripe time for new ventures: Expert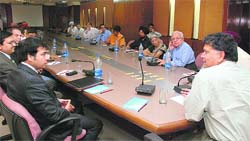 Chandigarh, October 29
The difficult economic situation that has seized the world today is in fact the best time for entrepreneurs to start new ventures, said Sridar Iyengar, former chairman and CEO of KPMG India, during an interactive session with local entrepreneurs at the CEO Forum organised by The Indus Entrepreneur (TiE), here today.
CEOs take part in a forum organised by The Indus Entrepreneur (TiE) at UT Guest House, Chandigarh, on Wednesday. A Tribune photograph
Beant memorial centre, lake thrown open
Chandigarh, October 29
UT administrator S.F. Rodrigues today launched two projects in the southern sectors — the Beant Singh memorial centre for performing and visual arts and a new lake in Sector 42 — here today.
Project helps mentally challenged youth earn livelihood


Chandigarh, October 29
Anoop Kumar Goswami (23) drives down the stairs at the district courts complex in Sector 17 with a virtual steering in his hands and changes gears too. Frequent epileptic fits had damaged his brain when he was nine months old. Popular among lawyers, Anoop has made friends with everyone who frequents the courts complex.



Anoop Kumar Goswami
Swindon delegates celebrate Diwali
Chandigarh, October 29
"The people here are equally warm, affectionate and beautiful as the city of Chandigarh, the paragon of panoramic natural ambience and modern architectural excellence," observed UK-based Dr Benjamin Marius Schmidt, leader of a delegation of teachers from Swindon county. The delegation is in in city for a cultural and educational exchange programme, organised under the aegis of CFBT Eductaion Trust of United Kingdom and the Heritage Mohali and Patiala.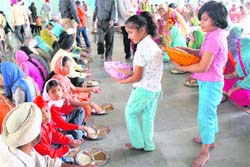 Young devotees distribute langar on Vishwakarma Day at Ramgarhia Bhawan in Mohali on Wednesday. Tribune photo: Vicky Gharu
Govardhan Puja celebrated with fervour
Chandigarh, October 29
The local chapter of the International Society for Krishna Consciousness (ISKCON) celebrated "Govardhan Puja" and "Annkut" festival with enthusiasm and religious fervour at Hare Krishna Dham, Sector 36-B, here today.
German doc to perform live surgeries
Chandigarh, October 29
Dr Jorg Franke from the University of Magdeburg, Germany, will perform live disc replacement surgeries on two patients at Government Medical College and Hospital(GMCH), Sector 32, here tomorrow.
Stone of science centre to be laid today
Chandigarh, October 29
Panjab University's project of Centre for Emerging Areas in Science and Technolgy is going to start off as its foundation-laying ceremony will take place tomorrow. Kapil Sibal, Union minister for science and technology, will lay the foundation stone near the botany department.
e wild wild
Cyber activism — boon or bane ?
Gie Schwartz, a business writer in the pen name of Stanley Bing in his column in the Fortune fortnightly gives a case study, perhaps apocryphal, of a senior business executive driven mad by Google.
PU teachers' retirement age
Confusion still prevails
Chandigarh, October 29
Confusion reigns supreme in the Panjab University (PU) when it comes to the age of retirement for its teachers. Going by the recent retirements, it seems teachers are choosing their own age to retire from service. This system of convenience has not only hampered chances for the young teachers, it also has adverse financial and legal implications on the university.
Geology dept for green celebrations
Chandigarh, October 29
The department of Geology, Panjab University, has a list of things to do for culmination of PU's year-long Diamond Jubilee celebrations.