Pavilions, podcasters and playlists
Jasmine Singh
Season 2 of ICL brings with it old players but new playlists. Hereís tuning into whatís making our boys swing off the pavilion
Cricket, cricket, cricket. There appears to be an overdose of it. Still, every time a team reaches a venue, there's that rush for autographs and pictures. No dampening of the spirit, no let-up in the excitement.
My laptop allows me to connect with my friends and it also works as a stress buster: Karanveer
Honey, I shrink the role
Parbina Rashid
A psychiatristís role in Bhandarkar's Fashion was a pleasant experience for homemaker Archna Chawla
It may have been a blink-and-miss kind of a role but hey, playing Priyanka's shrink in a flick like Fashion does not happen everyday. And when it does, it brings a few sleepless nights along with the usual excitement and pride.
Car toon network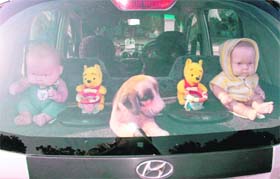 No Roadside Romeos, these dolls Lifestyle photo: Parvesh Chauhan
Body beautiful
Parbina Rashid
As an artist, Sawan thinks himself to be a subject as good as any
Some call him Narcissus, some call him Husain. They either hate him for his garishness or simply adore him for his eccentricities. But ignore? They can hardly do that. For Sawan's presence in the campus hardly goes unnoticed.
Side Lanes
The ancient one
Joyshri Lobo
It always lay in the passage, rather forlorn and ragged. Badshah, my mother's pointer, slept on it, curled into a warm circle in winter. In summer, his posture changed to expose his stomach and manhood to the whirring fan above.
Launch Pad
Bags on your mind
Hidesign launches Pearl 02, an exquisite 'Hobo' bag designed especially for women. The Hobo bag is a fashionable and dynamic trend in accessories this season. Hidesign's Pearl 02 is handcrafted using supple Ranch leather.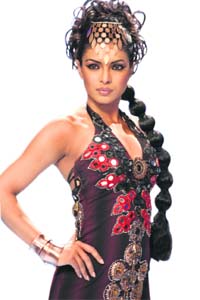 Picks & Piques


Quite a style statement
Watchable
Mona
Behind the runway dazzle is a sinister dark world, where conspiracy is the code and evil the design. Maverick filmmaker Madhur Bhandarkar is back, and this time with the ramp-reality check Fashion, which explores the gloom quotient of glam arena.

Spoof saga
Timepass
Mona
Sequels are meant to be bigger and better. But Golmaal Returns takes the retrogressive route - where things get sloppier and shoddier. What sours Rohit Shetty's comical broth is the lack of an all-important ingredient called the script, reducing the narrative to a spoof-saga.

Mock Tales
Hair-razing fun
Neha Walia
There are no short cuts to success. And the big bad world of our television dramas makes sure that these lines are followed, literally. Wondering how? Try to remember those pancaked, sati savitri personified, glycerin-laden women on the boob tube, who can give any baba a run for his money with their life gyan.

Hello Tunez


Plug in
DOSTANA: Karan Johar's films are known as much for their music as they are for their own cinematic quality. This expectation level can be a liability, considering that everyone wants it to be the very best.