Pavilions, podcasters and playlists
Jasmine Singh
Season 2 of ICL brings with it old players but new playlists. Here's tuning into what's making our boys swing off the pavilion
Cricket, cricket, cricket. There appears to be an overdose of it. Still, every time a team reaches a venue, there's that rush for autographs and pictures. No dampening of the spirit, no let-up in the excitement. So, when Chandigarh Lions and Dhaka Warriors hit the city for the ICL match at Tau Devi Lal stadium, Panchkula, we knew there was something interesting to dig out.
This time, we got all those boys sweating it out in the winter sun chatting about the gizmos they are hooked on to, the must-haves they just can't do without even when they are travelling. Given the fact that they miss out on ghar ka khana and yaar-dost, there has to be something, which gives them company. Here's meeting their tech companions.
Handycam's hot with Amit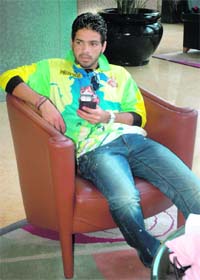 Ditto for Cricketer Amit Uniyal, who carries a Sony camera or handycam whenever he is touring. "I can capture some nice locations and moments on the camera."
Along with this, the inevitable iPod goes with Amit wherever he goes. "I keep updating the playlist and you bet, it works as the best de-stress device." Besides, he also carries a laptop.
"It is important to check mails and chat up with friends This is one exercise that helps me relax," smiles Amit.
So, you thought cricket is the only thing that's on their mind. Of course, it is but they can switch off to easy mode whenever they want. Gizmos are one thing they can fall back on for relaxation.
Rock On on Ishan's iPod
"Ipod," says the 24-year-old fast bowler with Chandigarh Lions, Ishan Malhotra. "I can't think of travelling without music, the latest songs on the playlist, which are a mixture of Bollywood tracks, trance and hip-hop. The 'Rock On' score is my current favourite.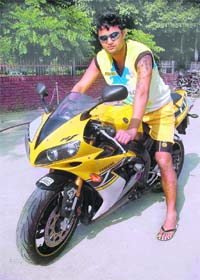 "In addition to this, I always carry my hard disc that has movies and songs, and a Blackberry, fully loaded." For Ishan, these gadgets are like stress busters. "Whenever, I want to switch off from cricket, music and movies help me getaway." And this time, Ishan has brought his Yamaha RI, supersports bike with him to Chandigarh. "I'd like to drive around the city when I am not playing or practising," says Ishan, who is making his debut in a Hindi movie based on cricket, Victory, along with Harman Baweja.
What's the score
What's on their I-pod
Rock on
Teri Deewani
Titanic
Rise up
Rhythm divine
Hooton sey chho lo tum
Papu can't dance
Harpreet's speaker struck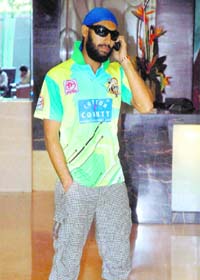 Says Harpreet Singh, an all-rounder with Chandigarh Lions, who relies heavily on his iPod, laptop and speakers for some masti. "Whenever I travel long distances, I make sure to carry my speakers, which I can plug into my iPod and have some nice music being played in the coach." Harpreet, who is hooked on to slow romantic numbers, has his cell phone equipped with the latest functions.
Ditto for Karanveer, whose 80 GB iPod allows him to tune on to some awesome numbers all the time.
Shoppers stop
Where these cricketers pick their gadgets from:
England
Australia
Mumbai
Malaysia
Sydney
Shutterbug Alok
As for the run machine of Dhaka Warriors, Alok Kapali, a digital camera is a must while travelling. "I am not much into music but, yes, I have to carry a digicam with me for some interesting shots."