A temple where liquor is offered as prasad
Sikhanwala (Faridkot), October 30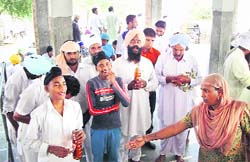 Devotees thronged the temple of Baba Kala Mehar, a local deity near this village in the forest area, and in a unique tradition offered drinks to propitiate the deity. The area surrounding the temple has a reserved forest area of more than 2,000 acres, which is said to have been reserved for constructing a temple of this deity by the erstwhile King of Faridkot. Devotees offer bottles of liquor at the Baba Kala Mehar temple, near Sikhanwala village, Faridkot district, on Wednesday. Photo by writer




It's fly ash all the way in Bathinda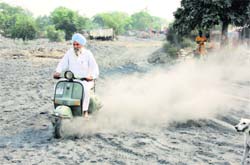 Bathinda, October 30
Delay in the installation of pollution-control devices at two of the four units of the local 440-MW thermal power station has made life of residents miserable. The fly ash generated by the National Fertilisers Ltd (NFL) is yet another problem as it is being dumped in public places and around villages on the Bathinda-Abohar road.
A scooterist drives through an open place where fly ash has been dumped. Tribune photo: Kulbir Beera
Wheat sowing begins early
Chandigarh, October 30
As the paddy arrivals slowly inch towards the targeted figures, farmers in Punjab and Haryana have started sowing wheat this week. Unlike the past practice to leave the farms vacant for a few days, the farmers in many parts of the region don't want to have their produce ready for taking to the mandis at the same time, causing a glut as in the case of paddy.
Farmers allege bias in purchase of PUSA-1121
Moga, October 30
In the absence of purchase by the government agencies, most of the farmers of this district were taking away PUSA-1121 variety of paddy to the nearby districts of Tarantaran and Amritsar after having failed to get good rates for their produce here and other grain markets in the district.
97 doctors appointed
Mohali, October 30
The Department of Health and Family Welfare has appointed 97 allopathic doctors under the National Rural Health Mission to provide medical and specialist services to the people of the state even as Rs 5 crore have been earmarked for the special school health programme under the mission.
Punjab IIT
Wolverhampton varsity to tie up with state govt
Chandigarh, October 30
The University of Wolverhampton, UK, will tie up with the Punjab government for setting up of the Punjab IIT. Jasbir Singh, principal lecturer, Overseas Development, Wolverhampton University, who was here to hold talks with government officers told The Tribune that the university would be collaborating with IIT Delhi, which is the IIT Punjab mentor.
Punjab Institute of Medical Sciences
Fortis: Decision on prequalification
Chandigarh, October 30
Less than a month after Fortis Healthcare Limited accused Punjab of denying it a "level playing field" for developing Punjab Institute of Medical Sciences (PIMS) at Jalandhar, the organisation today reiterated its stand that the decision making process was vitiated "due to bias and mala fides".
'Azadi bachao' march takes off
Amritsar, October 30
An "azadi bachao muhim" march, being organised by the Democratic Youth Federation of India, started from Jallianwala Bagh here today. It will culminate in New Delhi on November 3 after passing through various cities of Punjab and Haryana.
Factory, banquet hall demolished
Sangrur, October 30
On the order of a court, officials of the National Highways Authority of India today demolished parts of three structures situated on the NH-71, near Mehlan village and Sular Gharat village.
Majithia for early release of Pak boy
Chandigarh, October 30
Bikram Singh Majithia, patron of the Youth Akali Dal, today called for evolving a soft and humane policy to deal with juveniles crossing Line of Control, particularly those obsessed with careers in Bollywood.
Raman Bahl nominated to PU senate
Gurdaspur, October 30
Raman Bahl, former president, Municipal Council, Gurdaspur, has been nominated as a member of the senate, Panjab University, Chandigarh, by its chancellor and Vice-President of India Mohammad Hamid Ansari.
Mittal is home secy
Chandigarh, October 30
The Punjab government today appointed Sudhir Mittal principal secretary, home affairs and justice, on his return from the Central deputation. He would replace Dr B.C, Gupta, who has been posted to the Cooperatives Department.


Custodial Death
HC to decide on judicial magistrate probe
Chandigarh, October 30
Is inquiry by a judicial magistrate essential in a custodial death case? The vital question of law will be answered by a Division Bench of the Punjab and Haryana High Court after hearing the State of Punjab on the issue on November 3.