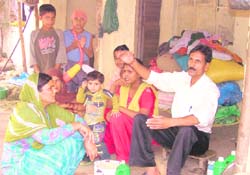 Plane crash spells doom for drug addicts
Jugiana, October 30
The crash of King Air C-90 Beechcraft at the abandoned land industrial unit of Thapar Agro has spelled doom for drug addicts and anti-social elements of Jugiana village and surrounding areas.


Sanjay Kumar, the caretaker of Thapar Agro Mill, with his family.
World Stroke Day
Brain stroke the second leading cause of death globally
Ludhiana, October 30
The Stroke Unit of CMCH observed the World Stroke Day in the hospital premises.
Your caller tune is a mirror of your personality
Ludhiana, October 30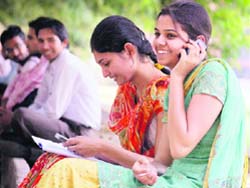 The caller tune depicts the personality of a person. One gets a peep into the persona of a person by listening to the caller tune he or she has subscribed to. While some infuse their Sikh identity with "Singh is King", others are hooked to the music of "Rock On". We check the popular caller tunes that buzz on the campus these days. "I have never subscribed to the caller tune, but when I heard the song "Aasma hai neela kyun", I could not resist from making it my caller tune. The song exactly narrates the philosophy of my life. At times, I also question the way singer does in the song," says Harpreet, a student of Government College for Boys.
Thieves on the prowl in SBS Nagar
Ludhiana, Oct 30
Small-time thieves are on the prowl in E-block of the Shaheed Bhagat Singh Nagar area, who are decamping with sanitary items and other goods stored in the houses. Thieves are at it for the last many days and have already taken away expensive water-taps, gas cylinders and even bicycles from the area when the residents are fast asleep. They discover about the theft only when they wake up in the morning. While all this is happening, nobody is taking pains to even inform the police about the incidents that are continuing unchecked.


Free institutional deliveries' scheme a non-starter
Ludhiana, October 30
The Punjab government has failed to implement its decision of free institutional deliveries in civil hospitals across the state, thereby burdening the economically weaker sections of the society.
Diarrhoea outbreak causes panic
Mandi Gobindgarh, October 30
Panic gripped the people of various localities in Mandi Gobindgarh after outbreak of diarrhoea wherein a large number of people suddenly fell ill due to unhygienic conditions that were prevailing in the town.
Bling is king in saas-bahu sagas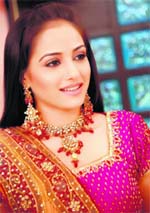 Ludhiana, October 30
Adorned with heavy jewellery, shimmering sarees and dazzling make-up, most of the television artistes today are shown dressed in their best even while working in the kitchen. Even these artistes themselves feel that the heavy look and stereotype roles should be done away with, but it's the viewers' demand that keeps them going.
Artistes dressed up in their best before a shoot and Shilpa Shinde gets ready for a TV serial, Neha Bamb all jazzed up at the sets of 'Maayaka' in Mumbai,. Tribune photos: Manav Ghuman.
Bhaiyya Dooj celebrated with fervour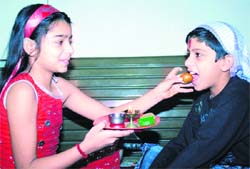 Ludhiana, October 30
Bhaiyya Dooj, an occasion to strengthen the bond between brothers and sisters, was celebrated in all sections of the society. It was the day of proud brothers from all age groups, who were beaming with big 'kumkum' and 'kesar' tikkas on their foreheads.


A BOND OF LOVE: A sister offers sweets to her brother on the occasion of Bhaiyya Dooj in Ludhiana on Thursday. Photo: Rajesh Bhambi
Rishi Nirvana Diwas celebrated
Ludhiana, October 30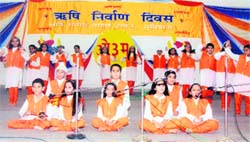 Arya Samaj, Model Town, celebrated 125th Rishi Nirvana Diwas. The members of the Arya Samaj, and the students and the teachers of various schools run by the Arya Samaj, including BCM Arya Model Senior Secondary School, Shastri Nagar, R. S. Model School and Arya Kanya Gurukul, participated in it. Juneshji Kakdiya and Roshan Lal delivered sermons. — TNS
Children of the Arya School perform to mark the Rishi Nirvana Diwas. A Tribune phtograph
Music of 'Kaash Mere Hote' released
Ludhiana, October 30
Music of 'Kaash Mere Hote' was released at Planet here today. M. Kumar Sahil, dressed in the best, came for the launch ceremony. City youngsters were keen to have one look of the city boy, who will be very soon making entry into the Bollywood.
Crackers add to pollution of paddy-stubs' burning
Mandi Ahmedgarh, October 30
Being least bothered about the ban on the burning of paddy stubs, the farmers of this area falling under Ludhiana and Sangrur districts compounded problem of air pollution with reckless bursting of crackers on Diwali. The patients suffering from cardiovascular and pulmonary diseases were worst sufferers.
Ex-servicemen seek one rank one pension
Ludhiana, October 30
The Indian Ex-services League, Punjab and Chandigarh (IEL), has reiterated its demand for one rank one pension while making a fervent appeal to the Union government to fulfil their other pending demands.
'Adopt new technology to streamline traffic'
Ludhiana, October 30
Guru Nanak Girls College organised a cultural bonanza on the visit of Harvey L. Hall, mayor of Bakersfield, California (USA), John Hefner, director, international city relations, Bakersfield, California, and Brandon Smith, sister, city board, on the campus here today.
Students perform at a culural show on the visit of Harvey L. Hall, mayor of Bakersfield, California, at Guru Nanak Girls' College, Model Town, Ludhiana; and (right) principal Charanjit Kaur Mahal and Gurbir Singh, president of the school, honour the mayor. Tribune photos
World Mass Communication team visits PAU
Ludhiana, October 30
An executive team of the World Mass Communication, a quarterly magazine brought out by the Institute of Communication and International Studies, New Delhi, visited the Punjab Agricultural University (PAU) here today.
Non-teaching employees united against VC
Ludhiana, October 30
All the factions of non-teaching employees of Punjab Agricultural University (PAU) here seem to have joined hands against the vice-chancellor's "vindictive" attitude towards employees. They were agitated over VC Dr Kang's recent letters issued to certain heads of the departments of the office-bearers of non-teaching employees' union. The employees said they would organise another protest rally on November 5, opposite Thapar Hall, to convey that they would not bow to such pressure tactics being resorted to by the authorities.
School buses, autos flout rules at will
Ludhiana, October 30
In the absence of checks, the school buses and auto-rickshaws ferrying kids to school are flouting rules with impunity. Moreover, some of the city schools have shirked their responsibility of ensuring kids' safety and have not provided bus facility to them.
Hall interacts with PAU VC
Ludhiana, October 30
Mayor of Bakersfield, California, Harvey L. Hall visited Punjab Agricultural (PAU) University here today and interacted with vice-chancellor Dr Manjit Singh.
NCC unit organises annual function
Khanna, October 30
The NCC unit of AS College organised its annual function on the college premises. A large number of NCC cadets participated in the function wherein the social problems, including price rise, female foeticide, poverty, pollution and other social problems were discussed. — TNS
Nine persons injured in three accidents
Jagraon, October 30
About nine persons were injured in three different accidents in the area. Sukhwinder Singh (27), his wife Karamjit Kaur (25) and their daughter Jyoti (5) of village Dhandra were injured near village Chowkiman when their motorcycle (PB 10W 0575) was hit by a Tata Sumo (DL 8CB 0896). They were going to their village Dhandra from Jagraon. The occupants of the Sumo absconded, leaving the vehicle behind. The injured were admitted to the Ludhiana Medicity Hospital.
With warmth from the valley
Over 5,000 Kashmiris come to the city to sell exquisite pashmina shawls, jackets, suits in winters
Ludhiana, October 30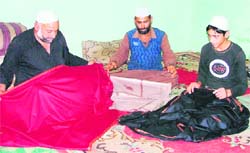 Ludhiana is second home to Kashmiri migrants. While some of them have settled permanently in the industrial hub of the state, others spend six months in the city selling shawls, Kashmiri suits and jackets. According to sources, over 5,000 Kashmiris come to the city during winters. A majority of Kashmiris reside in Khaddi Mohalla.
Kashiris showcase their collections of shawls and woollens in Ludhiana. A Tribune photograph
Nokia N85 launched in India
Ludhiana, October 30
Nokia N-Series, the premium multimedia sub-brand of Nokia, launched the Nokia N85, the device designed for ultimate gaming thrills, in India yesterday.


Man held for keeping smack
Samrala, October 30
A tea-stall owner was arrested by the local police on the charge of keeping smack with him. Accused Sudesh Kumar, a resident of mohalla Kang, runs a tea stall near old grain market here.
Man found murdered
Ludhiana, October 30
A 30-year-old unidentified man was found dead from a roadside in Vijay Nagar near Basti Jodhewal here this morning.The body was spotted by a passersby. The man was lying in a pool of blood and his neck had been slit badly with a sharp-edged weapon.
One killed in accident
Mullanpur Dakha, October 30
One person died when a bus ran over him. Ganga Bahadur, a migrant from Nepal, died yesterday around 9 pm.
BSNL, Reliance booked for digging roads
Ludhiana, October 30
Digging roads without obtaining permission from municipal corporation has landed BSNL and Reliance Telecom in police net with the latter booking the two agencies for damaging public property.


3 drug peddlers get 10-yr jail
Ludhiana, October 30
A local court has convicted three drug peddlers on the charges of recovery of huge quantity of narcotics from their possession. They used to bring narcotics from Himachal Pradesh for selling the same here.


Amritsar eves register a lead
Ludhiana, October 30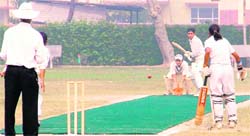 Amritsar eves registered a sizeable of lead of 127 runs at the end of the day's play over the host Ludhiana in the Punjab State Inter-District cricket tournament played at GGN Khalsa College for women here today.

A match between Ludhiana and Amritsar in progress during the Punjab State Inter-District Cricket Tournament at GGN Khalsa College for Women in Ludhiana on Thursday. A Tribune photograph