PUSA 1121 notified basmati
Chandigarh, November 3
The ministry of agriculture has notified PUSA 1121 variety as basmati. The price of this variety, already brought to mandis of Punjab and Haryana, is likely to rise with its being classified as basmati.



Majha leaders rally to retain Amritsar flights
Chandigarh, November 3
Ministers, MPs and MLAs of the Majha region, led by MP Ratan Singh Ajnala and Information and public relations minister Bikram Singh Majithia, today called on Chief Minister Parkash Singh Badal here to request him to write to Prime Minister Manmohan Singh, union civil aviation minister Praful Patel and union commerce minister Kamal Nath to take immediate steps to ensure that ongoing international as well as domestic flights from Rajasansi Airport, Amritsar, were not discontinued and expansion of the airport be completed at the earliest.
Sidhu plans protest at Rajasansi airport
Amritsar, November 3
BJP MP Navjot Singh Sidhu said today that he, along with party activists, would hold a rally at the local international airport on November 5 to derive home the point that the airport needed to be used to its optimum potential. He said he would take up the issue of disparity with regard to landing rates at the airport here and in New Delhi in Parliament during winter session.
Congress blames Delhi hoteliers
Gurdaspur, November 3
Senior Congress leader M.M. Singh Cheema, member of the All-India Congress Committee (AICC), while alleging that a section of hoteliers and transporters of the Delhi region were behind cut in flight services from the Amritsar international airport for their vested interests, has urged UPA chairperson Sonia Gandhi and Prime Minister Manmohan Singh to intervene in the matter.


Remand for doctor held from HP
Moga, November 3
The police arrested Dr Khursheed Ahmed from Kangra district in Himachal Pradesh, along with two local persons, a few days ago in the case pertaining to post-operative complications among nine patients, who were operated upon at a free eye camp on July 16 here.
Granth Sahib teachings still relevant: President
Rs 40-cr centre to be set up at Hazur Sahib
Amritsar, November 3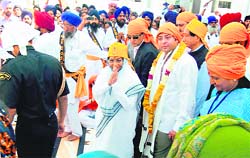 President Pratibha Devisingh Patil has appealed to the people to follow the teachings of Guru Granth Sahib for the welfare of mankind. Speaking at a function, organised by the Takht Hazur Sahib Management Committee at Nanded today to mark tercentenary of Parlokgaman of 10th Sikh master (when Guru Gobind Singh went for heavenly abode), she said Guru Gobind Singh worked for the welfare of weaker sections.
President Pratibha Devisingh Patil at Hazur Sahib on Monday. A Tribune photograph
Farm scientists asked to develop crops resistant to global warming
Chandigarh, November 3
Minister of science technology and environment Bikram Singh Majithia today called on farm scientists of the world develop strains of crops resistant to global warming.
Farmers face DAP shortage
Bathinda, November 3
Farmers are facing unavailability of DAP fertiliser and the sowing of wheat has almost started. Acute shortage of the fertiliser has affected the sowing of wheat and if the fertiliser is not arranged in a week, the yield will be affected.
Open zero balance accounts for farmers, govt tells banks
Chandigarh, November 3
The Punjab government today asked banks to open zero balance account for farmers to facilitate payment of the paddy bonus to them. According to an official spokesman, it has been decided to pay bonus to farmers directly into their bank accounts instead of making payments through shellers.
Ruckus at anti-drug state function
Bathinda, November 3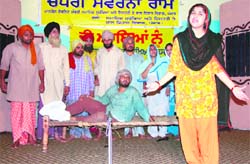 A state-level drug de-addiction function organised by the Department of Social Security and Women and Children Development in Bathinda proved to be a mismanaged affair. At the function, the mayor, deputies and other councillors of the Bathinda Municipal Corporation (BMC) alleging maltreatment staged a protest and boycotted the event.
Artistes stage a play, "Mitti Rudan Kare", in Bathinda on Monday. Tribune photo: Kulbir Beera
PSEB cancels contract of engineers
Patiala, November 3
Two superintending engineers (SEs), appointed by the PSEB after their superannuation, were removed by the Board management.
Dengue takes epidemic form
Patiala, November 3
Dengue has acquired epidemic proportions as its deadly claws have already claimed 12 precious lives and affected 2,466 persons 'officially' in Punjab.


No quota for wards: HC
If parent married into foward class
Chandigarh, November 3
The Punjab and Haryana High Court today made it clear that a student, even with a Scheduled Caste certificate, was not entitled to reservation, if one of the parents was now a member of the "forward class" by the virtue of marriage.
SSP to probe
Chandigarh, November 3
The high court has directed Bathinda senior superintendent of police (SSP), vigilance bureau, to look into the "genuineness" of expenditure incurred in the setting up of a rose garden at Mansa.