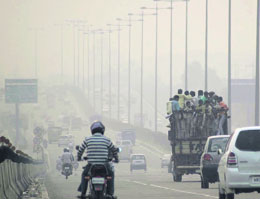 People travel on the Jaipur highway on a foggy Friday afternoon in Gurgaon. Tribune photo: Sayeed Ahmed
SC quashes state govt notification
New Delhi, November 7
The Supreme Court today quashed the Haryana government's notification for acquiring land from Essco Fabs Pvt Ltd in Kheri Nangal and from the Panipat Teachers (Recognised Schools) Housing Cooperative Society Ltd.
LPG distributors blame oil cos
Karnal, November 7
LPG distributors today blamed oil companies for erratic supply of LPG and cautioned that the situation could turn for the worse in the coming days if adequate supply was not assured.
Japan to have Bapu's statue
Karnal, November 7
More than 63 years after the destruction of Hiroshima and Nagasaki in atom bombing in August 1945, the Buddhist country of Japan, also known as the Land of the Rising Sun, will have the first statue of Mahatma Gandhi, known the world over as an "apostle of peace and non-violence".
Woman 'forced' to abort 8 times by in-laws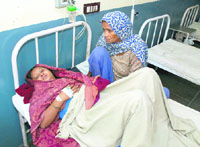 Allegedly did so under influence of 'tantriks'
Karnal, November 7
Call it superstition or insanity, Kanta, a resident of Anand Vihar locality here, has been forced to abort her child eight times allegedly by her in-laws since she was married to Vijay 12 years ago.


Kanta in the trauma centre in Karnal on Friday after her in-laws forcibly got her aborted. Tribune photo: Ravi Kumar

3 held for youth's murder
Fatehabad, November 7
The police today claimed to have solved the mystery of disappearance and murder of a youth, Vinod, five days before he was to get married, on October 30 at Badopal village in this district.
Doctor shot dead
Tohana (Fatehabad), November 7
Some assailants allegedly shot dead Dr Vijay Grover, owner of a private nursing home in Tohana while he was sitting in the outpatient department of the hospital here today.
Shopkeeper found murdered
Gurgaon, November 7
A 58-year-old man was found murdered in Jharsa village near here this morning. The victim, Banwari Lal, used to run a provision store in the village for the past two years and used to sleep in the shop itself.
CM-XI to take on MPs
Gurgaon, November 7
Parliamentarians and the Haryana CM-XI will play the third cricket match at Ch Surender Singh Memorial Cricket Pavilion here on November 8.
HJC youth wing holds protest
Sirsa, November 7
The youth wing of the Haryana Janhit Congress (BL) today held a demonstration against the state government on the issue of the killing of a student, Kuldeep, by the police in Bhiwani.
Cut prices of petro products, says Confed chief
Hisar, November 7
Haryana Beopar Mandal chief and Confed chairman Bajrang Das Garg today demanded a cut in the prices of petrol, diesel and cooking gas to curb inflation.
Bus driver beaten up
Sonepat, November 7
Sultan, driver with the Haryana Roadways depot, Sonepat, was allegedly beaten up with sticks by motorcycle-borne miscreants at a bus stop of Khera Kheri village on the Jind- Gohana road this morning.
Gas agency staff beaten up, looted
Sonepat, November 7
Some persons allegedly beat up employees of Shaheed Sukhbir Singh Gas Agency, Gohana, and looted Rs 16,000 from them here today.
Ban on coloured plastic bags
Panipat, November 7
Allowing no letups in its drive against use of plastic bags, the administration today imposed a complete ban on the use of coloured polythene bags in the district.