Stamp-ed impressions
Jotirmay Thapliyal
Tribune News Service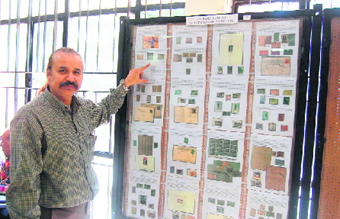 Rajesh Varma with his collection of stamps. Tribune photo: Anil Rawat
Dehradun, November 11
With philately dying a slow death, a Doonite has taken up the cudgels to revive the hobby in this city of schools. Despite efforts to promote philately, there has been a steady decline in the number of keen pursuers of the hobby in Dehradun in recent times.
After achieving several aurels, Rajesh Verma has been working single-handedly towards promotion of philately in the city.
As member of the Uttaranchal Philatelists Association, Varma has been instrumental in conducting over 70 workshops on philately in the last five years and has held exhibitions in Dehradun, Mussoorie, Nainital, Haldwani, Kashipur and other parts of the state.
Varma believes that the only way to revive philately is to inculcate interest among school children at the right stage. He says there has been little support from the school authorities in this regard.
"Leave apart a few, most schools take little interest towards revival of the hobby," he said. Already under pressure to deliver results, the schools seldom encourage their students to opt for extra-curricular activities.
In 1993, Varma was awarded Vermeil Medal at sixth India National Philatelic Exhibition. In 1996, he won the silver medal in the ninth Asian International Philatelic Exhibition held at China.
In 1997, he was awarded by CENTIPEX-97. In 2000, he continued bringing laurels back home and was awarded a special prize on his Olympic Games exhibits. He was yet again given the silver medal at the 2006 World Philatelic Exhibition ESPANA-06.
Since 2001, Varma has been the judge for the Stamp Design Competition organised by Uttaranchal Postal Circle.
But then buying first day cover involves expenditure, which is one reason why there is a perceptible disinclination towards adopting this hobby.
"The hobby is certainly expensive as it involves money. But it is not money that is forcing the children of today in keeping a distance from stamp collection, as they are ready to go out for other recreations and spend even more," says Varma.
As an executive officer in the Republic of Nauru in 1990, Varma designed as many as 14 stamps, including a miniature sheet for the republic, an achievement of sorts by any Indian ever.
Taking into account his expertise, the government there sought his expertise for issuing and designing stamps. He was also national commissioner for Olymphilex 2000 at Sydney.
Varma is all praise for the role of Uttarakhand Postal Circle officials for their efforst to promote the hobby.