GETTING SET FOR TRADE FAIR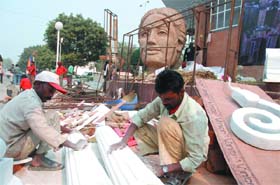 Labourers give final touches to the pavilion of Delhi for the upcoming India International Trade Fair 2008 at Pragati Maidan in New Delhi on Tuesday. Tribune photo: Manas Ranjan Bhui
Sportsmen bat for Malhotra
New Delhi, November 11
Well-known sportsmen today appealed to the citizens to support the BJP to make a change in the Congress-ruled Delhi government which had been in power for the past 10 years and failed to fulfil its promises made in the election manifesto.
70,000 govt staff to cast postal ballot
New Delhi, November 11
More than 70,000 government employees on poll duty will be the first to cast their votes through postal ballots in Delhi assembly election. The postal ballets will reach the Election Commission a day before counting.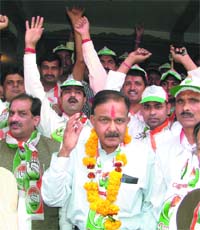 Amod K Kanth after filing his papers from Congress for Sangam Vihar assembly constituency. Tribune photo
Over 1,000 booths are sensitive
New Delhi, November 11
Over 1,000 booths in Delhi are likely to be declared "sensitive" for the November 29 assembly election here - a four-fold increase over the last election in 2003, a senior election official said here on Tuesday.
Cong office vandalised over ticket denial
New Delhi, November 11
The Delhi office of Congress was vandalised late Monday night by its angry supporters for denying ticket to their leader for the assembly elections.
6 Cong rebels file papers
New Delhi, November 11
Six Congress dissidents have filed nominations today. Ajit Chadha filed papers from Tilak Nagar; Duli Chand from Rajouri Garden; Satbir Singh, Mehrauli; Chaudhary Veer Singh, Sangam Vihar; Satbir Singh Yadav, Bijwasan; and Chandgi Ram from Mundka.
Ghaziabad residents protest jeweller's murder
Ghaziabad, November 11
Residents of upscale housing societies here staged a demonstration outside a police station today to protest the lack of security following the murder of a jeweller, who was robbed of Rs 2 million.
Thousands of construction workers clamour for better facilities
New Delhi, November 11
Nearly thousand construction workers and their supporters gathered at a rally at Jantar Mantar today to demand better living conditions and better health and education facilities for their children.


BSES partners with schools to save energy
New Delhi, November 11
Championing the cause of energy conservation, BSES today informed the media that it has collaborated with the Delhi schoolchildren to further its Bijli Gyan Abhiyan initiative.
School students in association with BSES march to spread the message of energy conservation in New Delhi on Tuesday. Tribune photo
JNU collaborates with British university
New Delhi, November 11
Jawharlal Nehru University (JNU) and the University of Warwick, United Kingdom, entered into a partnership for academic collaboration here today. The universities signed a memorandum of understanding at the JNU campus.
CBSE celebrates vigilance week
New Delhi, November 11
The 'Vigilance Awareness Week', celebrated by the Central Board of Secondary Education (CBSE), involved assemblies, discussions and essay writing competitions which were organized during the past week to highlight the importance of honesty, commitment and good governance.
Jamia gets writings of Pt Banarsidas Chaturvedi
New Delhi, November 11
Jamia Millia Islamia's Premchand Archives and Literary Centre (JPALC) added to its collection of distinguished writers, writings of Pandit Banarsidas Chaturvedi. The collection was given to the university by Pandit Banarsidas' grandson Apoorva Chaturvedi.
3 convicted of Cong leader's murder
New Delhi, November 11
A city court today convicted three accused for killing a Congress leader five years ago in the national capital. Additional Sessions Judge S.K. Sarvaria held accused Sushil Pehalwan, Suresh Pehalwan and Dalip guilty under Sections 302 (murder), 120B (criminal conspiracy) and 34 (common intention) of the Indian Penal Code.
5 hurt in bus accident
New Delhi, November 11
Tension prevailed in Trilokpuri last night after a private bus crashed into the residents and injured five. The residents claimed that at around 9 pm, a speeding bus first hit two parked motorcycles and eventually drove into the residents of Block 17 of Trilokpuri.


Body found in well
Gurgaon, November 11
A body of a 24-year-old man was found in a dry well in Wazirabad near here today morning. The deceased, Gulbir Sharma, belonged to Aligarh in Uttar Pradesh and ran a music shop here. His wife Vimla told the police that Virender had gone out after closing the shop, but did not return. Vimla also told the police that Virender was an alcoholic.
Gurgaon police personnel inspect the well at Wazirabad in Gurgaon in which the body of a 24-year-old man was found on Tuesday. Tribune photo: Rajesh Kumar Yadav
Cop falls to death
New Delhi, November 11
Head constable Chandra Paul, 42, posted with the 7th Battalion of the Delhi police, fell from the terrace of his house in Malviya Nagar on Tuesday around 8 am.He was rushed to hospital, where doctors pronounced him dead, the police said. — IANS