Sipra Dattagupta's Mixed Palette explores romance, prayer
Ravi Bhatia
Tribune News Service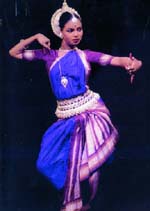 New Delhi, November 9
India International Centre (IIC) here is presenting "A Mixed Palette", an exhibition of paintings by artist Sipra Dattagupta from Kolkata, at the Art Gallery from November 12 to 16.
This is her second solo exhibition in which she has attempted to explore the realms of nostalgia romance and prayer through the mediums of oils and water colours.
An honours graduate in English literature from Presidency College, Kolkata, Sipra studied art privately under the tutelage of the late Kamala Roychowdhury.
Sudha Mukhopadhaya
The IIC is also presenting an Odissi recital by Sudha Mukhopadhaya from New Delhi at its auditorium on November 10. Sudha is a disciple of Madhavi Mudgal.
Dus Mahavidyas
Gallerie Nvya here is presenting "Dus Mahavidyas (Ten Creative Forces)", an exhibition showcasing the works of 10 contemporary women artists.
The exhibition has been conceived and curated by art enthusiast Ravi Kumar.
Baba Anand back in country
Baba Anand, the contemporary iconic artist, is back in the country if only for a short while. Rooted in India, Baba Anand has mounted shows in New Delhi, Mumbai, Paris, Milan, London, New York, Dubai and Zurich as well as in the frameworks of the Cannes Film Festival and the prestigious Annual Watermill Center Summer Benefit.
Excerpts from his many revered works have been featured in international publications like the British Vogue, Vanity Fair, Nice Matin, Elle, New York Magazine, Air Canada Magazine, Park Avenue Magazine, artivi.com and many more.
According to critics, Baba's works are a whimsical marriage of the classical and grandiose, the iconic and irreverent. Baba's devotion to art unearthed the artistic trajectory that's kitschy and totemic of Indian culture.
From weddings to fashion and film, the fabric of life in India is vivacious and dramatic as translated by his artworks and elaborate aesthetics. Challenging stereotypes, this contemporary artist's curiosity inspired him to innovate and indulge in many mediums.
Consistently trying to re-incarnate the beauty and glamour of Indian cinema's yesteryear stars, Baba Anand's Bollywood series is a shrine to the more flamboyant entertainers and movies that have become immortal over the years.
With vintage posters as his canvas, he embellishes them with crystals, beads, sequins, floral deco and faux fur; embroiders with gems, glitters and compliments these precious multifaceted surfaces with deep gold frames delivering a vibrant assortment of beloved collisions.
Born in Srinagar (Kashmir) in 1961, Baba Anand graduated from the NIFT (batch of 1986, New Delhi) and went on to spend eight successful years in the Indian fashion industry.
However, stifled by its limitations he evolved his art to bestow qualities of beauty, truth and grandeur upon his canvases. He thus applied his talents to fine art in 1994 and has ever since found himself betrothed to the freedom and frivolity of his iconic subjects.
Brazil Uncovered
The Embassy of Brazil here is holding three exhibitions, "Cocoon" - by Mira Bischoff, "Brazil Uncovered" - by João Paulo Barbosa and "Inter_Motions" - by Olivier Boëls and Lena Tosta at the Visual Arts Gallery, India Habitat Centre, here from November 5 to 11.
Dancing to avatars of Vishnu
Ansal Institute of Technology (AIT) Gurgaon in association with the Society for Promotion of Indian Classical Music and Culture Among Youth (SPIC MACAY) hosted a performance of classical dance—koodiyattam by well-known dancer Margi Madhu and his team.
He demonstrated episodes relating to the avatars of Lord Vishnu viz. Narsingh for killing Hirnaykashyap and protecting his son Prahalad. Vaman avatar to belittle Bali for his claims of being the greatest donour and Lord Rama for killing Ravana as depicted in Hindu epics.
He conceived the play in the modern context, strictly adhering to the principles of his classical art.
Contemporary Art Fair
Ten art organizations will participate in Contemporary Art Fair India: 2008, presented by Habitat Foundation from November 10 to 13 at the Travencore House, Kasturba Gandhi Marg here.
The participants are Tribal Art from Pakistan, Chitrakoot Art Gallery (Kolkata),Genesis Art Gallery (Kolkata), Habiart Foundation (Delhi), Mirror Artist Group (Delhi), Naresh Kapuria (Delhi), Orchid Art Gallery (Mangalore), Vadehra Art Gallery Book Store (Delhi), Vibgyor Art Gallery (Kolkata), Garhi Artist Group (Delhi).
The special guest for the occasion is Ranji Thomas, secretary, AICC. There will be an important seminar on November 13 on 'Arts Council of India'.
The panelists are Rajeev Lochan Director NGMA, Dr. Geeti Sen, eminent art critic, Johny M.L editor Art concerns and Rekha Mody Founder Trustee Habiart Foundation.
Bharatnatyam
Geeta Chandran, founder-president of Natya Vraksh, is presenting the bharatnatyam arangetram of her disciple, Anjana Seshadri at the Chinmaya Auditorium here on November 15.