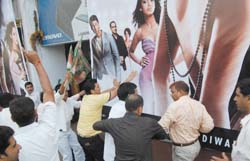 Activists of the Rashtriya Janata Dal remove posters of the film 'Fashion', as the film has been shot in Maharashtra. They also demand the arrest of Maharashtra Navnirman Sena chief Raj Thackeray in New Delhi on Friday. Tribune photo: Mukesh Aggarwal
Names of 3 best MLAs missing from Cong list
New Delhi, October 31
Names of three Congress MLAs who were conferred with the best MLA awards has not yet figured the list of expected Congress candidates for the upcoming assembly elections. Sheila Dikshit had announced the names of Bheeshm Sharma from Ghonda constituency, Tajdar Babar from Minto Road and S.C. Vats from Shakur Basti in April this year. They were also conferred awards by Lok Sabha Speaker Somnath Chatterjee for their performances.
BJP fails to release names, busy preparing for MP polls
Final list of candidates expected today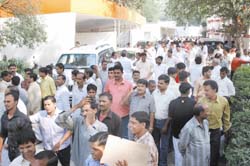 New Delhi, October 31
The Bharatiya Janata Party (BJP) failed to release the list of candidates for the forthcoming assembly elections today. According to sources, the party high command was busy finalising the names of candidates for the Madhya Pradesh assembly elections today.
Ticket seekers protest outside the Delhi BJP office on Friday. Tribune photo: Manas Ranjan Bhui
3,772 crimes in 8 months tarnish Noida's image
Noida, October 31
Ccriminals have tarnished the image of Noida with a total of 3772 crimes, including eve-teasing, assaults, thefts, loots, road rage, murders, vehicle thefts, kidnapping, etc, having been committed during the first eight months of the year.
6 houses broken into, goods worth lakhs stolen
Greater Noida, October 31
People who had gone out of town to celebrate Diwali at their native place were in for a shock when they came back. On diwali, holi, dussehra, raksha bandhan, etc, people go home to celebrate the festivals, but the incidents of house-breaks and thefts have increased by dozens.
Attacks on North Indians in Mumbai condemned
Noida, October 31
Attacks on North Indians in Maharashtra, especially Mumbai, are worrying over 800 Marathi families in Noida and Greater Noida. These Marathi families have asked the centre to rein in Raj Thackeray's men.
3 govt officials held for graft
New Delhi, October 31
Two officials of the Delhi government and one from Municipal Corporation of Delhi (MCD) were held on Friday for alleged corruption in purchases made in various government-run centres in the city.
Friend killed for money
New Delhi, October 31
An argument between two friends took an ugly turn yesterday night, when one of them was shot in the Sabzi Mandi area of North Delhi.
Robbery in auto alleged
Noida, October 31
Two persons in an autorickshaw allegedly robbed a software engineer at dagger-point while he was taking Diwali gifts home. The accused, travelling in the same autorickshaw, had pushed him down from the vehicle in the Ghaziabad area adjoining Noida.
Lensman dies in mishap
New Delhi, October 31
A photographer returning from a marriage ceremony late last night was killed in the Karol Bagh area when a speeding dumper hit his motorcycle.
Mandip Singh Soin is 'India's Most Versatile Adventurer'
New Delhi, October 31
Mandip Singh Soin, a fellow of the Royal Geographical Society, UK, and an intrepid traveller, has made an entry into the Limca Book of Records as 'India's Most Versatile Adventurer'.
Inter-college sports meet begins
New Delhi, October 31
The Fifth Annual Inter-College Sports Meet 2008-09 of Guru Gobind Singh Indraprastha University (GGSIPU) commenced today at its Kashmere Gate campus. The annual sports meet will run from October 31 to November 3.
Opera show on Nov 9, 10
New Delhi, October 31
Music knows no barriers of language, class or creed. Especially, when it is used to tell a story, it goes down much better with audiences who not only have an ear for soulful music but for the drama as well.
Health fair opens
New Delhi, October 31
To revive the ancient system of healing through traditional medicines, the department of ayurveda, yoga and naturopathy, unani, siddha and homeopathy (Ayush) organised a health fair 'Arogya' today in association with the ministry of health and family welfare.
No DDA public hearing on Nov 3, 6
New Delhi, October 31
The Competent Authority of the Delhi Development Authority (DDA) has decided that the housing department would not conduct any public hearings on November 3 and November 6 due to exigencies of work.
Stress laid on Savings on World Thrift Day
New Delhi, October 31
State-level World Thrift Day function was organised today at Speed Post Centre, Gole Market here.
Shopping website launched
New Delhi, October 31
Open2save (www.open2save.in), an online venture for India's deals and discounts available in the retail market today launched services for the national Capital.