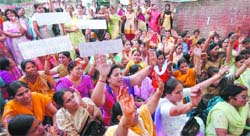 Primary school teachers under the banner of Sanyukt Prathmik Shikshak Sangharsh Samiti, Delhi demand change in the Sixth Pay Commission report at Jantar Mantar in New Delhi on Wednesday. Tribune photo
Katara Murder
SC rejects Yadav's plea of hearing outside Delhi
New Delhi, October 22
Vikas Yadav, son of Uttar Pradesh politician D P Yadav, sentenced to life imprisonment in the Nitish Katara murder case suffered a setback today with the Supreme Court rejecting his plea for transferring the appeal proceedings to any High Court outside Delhi.
Recession delays Noida real estate projects
Noida, October 22
The global economic recession and the current real estate crisis has affected this satellite town neighbouring the national Capital, as various building projects are in jeopardy.
DPCC likely to submit list of candidates tomorrow
New Delhi, October 22
Assembly elections for five states have made the Central Election Committee of the Congress so preoccupied that the committee does not get time to look into the affairs of the Delhi Pradesh Congress Committee.
Cong leaders raise voice against MLA
Palwal, October 22
The Congress leaders of this newly created district yesterday lamented before an observer of the All India Congress Committee that the local Congress MLA and chairman of  Haryana Administrative Reforms Commission, Karan Dala, was not in touch with them and the party organisation.
Jamia Nagar encounter, a major issue in JNU poll
All parties, except the BJP-backed ABVP, demand probe into the shootout
New Delhi, October 22
Raising concerns over the alleged attempt of framing minority students in terrorism-related cases, most of the student organisations running for the Jawaharlal Nehru University Students' Union (JNUSU) elections, have demanded judicial enquiry into the Jamia Nagar encounter.
Haryana BJP youth wing seeks action against party leader
Faridabad, October 22
The youth wing of the Bharatiya Janata Party (BJP) today sought disciplinary action against party leader in Haryana assembly Ram Kumar Gautam for his recent utterances against the BJP-INLD alliance.
Girl, family thrashed for spurning advances
Ghaziabad, October 22
A 15-year-old girl was critically injured after a group of armed men, who had been following her for a month, barged into her house here and thrashed her and her family members for spurning their advances.
Two held for killing Manipuri 'terrorist'
New Delhi, October 22
The South West district police has claimed to have solved a sensational murder case of a Manipuri youth O. Juge Singh, who was found dead in the Jaffarpur Kalan area on October 4. Two men— Satender alias Tinu, 24, of Jharoda Kalan village and Devender alias Shooter, 27, of Gawalda village —have been arrested in connection.
Body of missing boy found in school
Faridabad, October 22
The body of a class 1V student was found on the school campus in his native Sahjahanpur village today, after he went missing last Monday.
Abduction attempt on girl
Noida, October 22
Four men tried to forcibly abduct a young woman at Labour Chowk in Noida's Sector 62 late on Monday night. When her friend tried to resist, he was beaten up by the miscreants.
Cashew nuts, almonds cholesterol-free
New Delhi, October 22
Heart Care Foundation of India president Dr K.K. Aggarwal said that cashew nuts contained more cholesterol than almonds and, hence, should not be consumed by heart and diabetes patients, was the commonest myth he came across during the Perfect Health Mela at Laxmibai Nagar.
Hadlee, Jackie to endorse Delhi Half Marathon
New Delhi, October 22
More than 40 of the world's biggest names in long distance running, led by the defending champions among men and women, Dieudonne Disi and Deriba Alemu, will dominate this stage on November 9, vying for a piece of the $ 210, 000 prize pie in the Airtel's Delhi Half Marathon.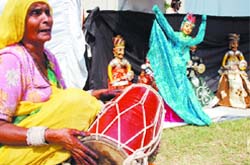 An artiste performs during the MTNL Perfect Health Mela at Laxmibai Nagar
in New Delhi on Wednesday. Tribune photo: Manas Ranjan Bhui
Punjabi poetess to get Sanskriti award
New Delhi, October 22
The Sanskriti Pratisthan here today announced Sanskriti 2008 award for literature to the contemporary Punjabi poetess, Inderjit Nandan.
School admissions begin
New Delhi, October 22
Anxious parents preparing to put their children in pre-primary schools of the Capital had better get prepared as the admissions process finally begins in the Capital. The nursery admissions process has already started in some schools where parents are queuing up for interviews, others are likely to follow suit after the festive season.
Stop using animals for medical education: PETA
New Delhi, October 22
Various medical educational institutions in the country have expressed solidarity towards relieving animals that are caged for research and experimentation purposes. In this regard People for the Ethical Treatment of Animals (PETA), an NGO dedicated towards welfare of animals, has sent a letter to the Medical Council of India (MCI) urging it to amend the regulatory requirements for carrying out experiments laid down by it.
Power staff on dharna
New Delhi, October 22
Delhi Electricity Workers Union members have been on dharna for the last 13 days in front of Transco office to pressurise the auhtorities to accept their longstanding demands.