Down the state's artery
The journey from Jammu to Srinagar unravels the face of the state — from development to people's outrage and a deep suspicion of the authorities.
Srinagar, November 11
The journey from Jammu to Srinagar by road was an eye-opener. It unfolded many new things ranging from development works and progress to the mood in the two regions of Kashmir and Jammu in the aftermath of the recent turmoil over the Amarnath land row.
| | |
| --- | --- |
| | |
| The phase-1 of the prestigious 900-MW Baglihar hydroelectric project on the Chenab in Jammu and Kashmir. — Photo by Anand Sharma | Two maintenance workers hang on to the rear of the railway coaches being rolled on the National Highway from Jammu to Badgam. — A Tribune file photo |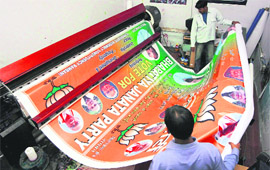 Poll days- time to make hay
Jammu, November 11
Come elections and campaign activities like the manufacture or putting up of banners, string flags and cut-outs boost employment opportunities.These days it holds true for the strife-torn state.

People associated with 'odd jobs' having a good time by preparing campaign items for the upcoming assembly elections. — Photo by
Anand Sharma

Pottery dying a slow death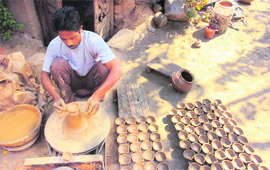 Jammu, November 11
The craft of pottery is dying a slow death in Jammu.The use of brassware, glassware and silverware has reduced dependence on earthenware which, in turn, has reduced the demand for these items. Earlier, one could see at least two or three earthen pots called 'surahi', in every household.People also used earthen utensils for cooking and serving food, but referigerators changed the scenario.
A potter at work in Jammu. — Photo by Anand Sharma

New practices for wedding feasts
Jammu, November 11
In the process of adapting to the changed geographical, political and economic situation, the displaced community of Kashmiri Pandits has, without altering the traditional style of wedding feasts, adopted new practices.
Kashmir bakery items popular in Jammu
Jammu, November 11
With the beginning of the annual Darbar move in Jammu, Kashmir bakery items also find their way in local markets where these are very popular.
Wanted: Parks for children
Jammu, November 11
Though a number of colonies have come up in and around Jammu,no provision seems to have been made for parks for children.
Letter
Poll boycott no answer
Soon, the people of Jammu and Kashmir will get a chance to elect representatives of their choice to run the government in the state. Though most of the parties have welcomed the holding of the assembly elections, the separatists have opposed them.