Colony count: 86 legal, 179 illegal
Jalandhar, November 11
In what may be termed as inaction and inefficiency of the government machinery, the number of illegal colonies in Jalandhar and its surrounding areas is more than double than the number of legal ones.
Deported Lehmber reaches village
Jalandhar, November 11
Lehmber Singh, a paralysed refugee in Canada, who fought a lone battle with the Canadian authorities to get political asylum and then avoid his deportation by taking shelter in a gurdwara, was finally deported. He reached his ancestral home last week.
Young World
Book exhibition to boost reading habits
Jalandhar, November 11
BD Arya Girls College, Jalandhar cantonment, organised a two-day book exhibition to inculcate reading habits among students. The exhibition had books on mass communication, computer and English literature.
CT institute technocrats design a 'desi monster'
Jalandhar, November 11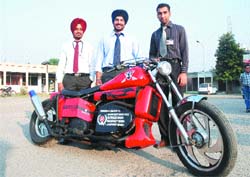 Four students of the CT Group of Institutions have designed an 800cc bike with their technical skills and creativity. The bike has been designed with technical expertise and unique features of power.






Students of the CT Group of Institutions with their 800cc bike. Tribune photo: Pawan Sharma
Dayanand Model Senior Secondary School win tourney
Jalandhar, November 11
"Sahodya cricket," a CBSE inter-school tournament, was held at the local Delhi Public School from November 6.
DAVIET clinch volleyball trophy
Jalandhar, November 11
The DAV Institute of Engineering and Technology (DAVIET) has clinched the Punjab Technical University inter-college volleyball (men) tournament for the third consecutive year, gaining the possession of the running trophy.
Value degradation in education
The concept of values is so deeply embedded in all human actions and thoughts that one should make an effort to implement it. The world at present is passing through a value conflict. This has had a great impact on all the spheres of modern life. The modern society is going back after modernisation which is affected by westernisation. The western culture is somewhat different from the Indian culture. Indians are adopting the western culture and the Indian values are being rooted out by the new generation.