Children's Day today
Children parks in Abohar crying for attention

Abohar, November 13
Even when the NGOs are busy with fortnight-long celebrations ahead of the Bal Diwas and the education department too was gearing up for an official function on November 14 to remember the first Prime Minister of Independent India Pundit Jawahar Lal Nehru on his birth day, nothing tangible was being done to improve the condition of the children parks here.

This is what left in the Children Park that was inaugurated by bollywood star Raj Babbar in Abohar. Photo: Raj Sadosh
World Diabetes Day today
'Diabetics prone to heart ailments'
Bathinda, November 13
To create awareness regarding diabetes among the public, the World Diabetes Day will be observed across the world tomorrow. Among the dreaded diseases like cancer and HIV/AIDS, diabetes might appear to be one of the least threatening. But according to a study, every 10 seconds a person dies due to diabetes and two develop the disease around the world.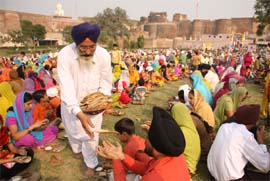 Gurpurb celebrations: Langar being served at the Qila Mubarak gurdwara in Bathinda on Thursday.Tribune photo: Kulbir Beera
Gurpurb fervour grips Abohar
Abohar, November 13
Most of the Gurdwaras in this sub-division were illuminated to celebrate the 539th Prakash Utsav of Guru Nanak Dev Ji. Recitation of Gurbani was initiated even before the sun rise today.
Kids born in jail pay for their mothers' acts
Bathinda, November 13
Kids born in different jails of the state have to face sore questions from people repeatedly for no fault of theirs. They find it difficult to tell people their birth place. Parents shiver on the thought of encountering the similar question posed to them by their hapless children. On the occasion of the Children's Day, TNS spoke to some women who have gone through such situations in life.
Teachers to stage dharna today
Bathinda, November 13
In support of their demands, teachers of private colleges have decided to wear black badges and hold a dharna against the state government on November 14.
Man gets jail in rape case
Bathinda, November 13
J.S. Kular, special judge, Bathinda, on Wednesday convicted Shanti Lal Bajaj, a resident of Abohar, for raping a widow and sentenced him to seven years of imprisonment. A fine of Rs 1,000 was also imposed on the convict. In case of default, he would have to undergo imprisonment for another six months.
Defaulter NGOs told to pay dues or face legal action
Bathinda, November 13
The government has taken a step to recover lakhs of rupees from the "defaulter" NGOs, who, during 2001-02, got the grant from Parkash Singh Badal, the then chief minister, in Sangat Darshan but did not used it. Through an order, deputy commissioners (DCs) concerned had warned the defaulters to pay the dues back by Friday or face legal action.
State cricket tourney for deaf & dumb
Bathinda pips Jalandhar
Bathinda, November 13
Mandeep with his 55 runs helped his team Bathinda to get a lead over the rivals from Jalandhar on the inaugural day of the 7th Punjab State Cricket Championship, being played between members of the Punjab Deaf and Dumb Association here today. He was declared the man of the match.
Dist consumer forum chiefs appointed
Bathinda, November 13
The Punjab government has filled the post of presiding officer of the district consumer forum of Ferozepur by appointing Sanjay Garg as its president. Pritam Singh Dhanoa, an additional sessions judge, has been has been appointed as the president of the district consumer forum of Mansa.
Jakhar stresses on new farming techniques
Abohar, November 13
"Our scientists are about to touch the moon but the farmers have yet to learn the new techniques for a commercially viable farming. They continue pouring in chemical fertilizers in an unbalanced manner. This increases cost of production besides reducing fertility of the land," says Surinder Kumar Jakhar, chairman of the IFFCO.
Fazilka to have another power station: Jyani
Fazilka, November 13
"Fazilka town will soon have another 220 KV power station for which sanction has been given by the chief minister. The municipal council has been directed to adopt a resolution soon for providing land for this purpose" said BJP state vice-president and local MLA Surjit Kumar Jyani while talking to media persons here today after distributing the cheques of Rs 1.33 crore for development works.
Farmers to launch stir
Abohar, November 13
The SAD-BJP alliance government in Punjab has allegedly come to the rescue of Vasundhra Raje-led BJP government in Rajasthan by diverting water from the Lambi minor (sub-canal) of this sub-division.