National Disaster Management
City has okay relief response system: NDMA
Amritsar, November 14
The industrialists of Amritsar, who are major suppliers of blankets, woollen lohis and milk powder, have not been properly recognised at the national level.
Doors Of Opportunity
Make optimum use of Centre schemes, women told
Amritsar, November 14
Women should involve themselves more in the central government schemes that are specifically formulated for their economic and social uplift. This was stated by chairperson of central social welfare board Ratna, while addressing a gathering during women empowerment camp held at Verka.
2 of family die in car-bus crash
Amritsar, November 14
Four persons, including two of a family, were killed in two separate accidents in the Amritsar Rural police district. In a collision between Indica car and a private bus near Talwandi Phuman village, three persons were killed.
13,000 examined at week-long eye camp
Manawala (Amritsar), November 14

More than 13,000 persons were examined and provided spectacles, while 25 patients suffering from cataract were operated upon in the week-long free eye camp that concluded here yesterday. It was organised by the US-based Luxottica Foundation Group in association with lions clubs and the All-India Pingalwara Charitable Society. The camp was dedicated to the birth anniversary of Guru Nanak Dev.
A foreign doctor examines a patient during an eye camp in Amritsar. Photo: Vishal Kumar.
Smashing response to 'Sat Sri Akal'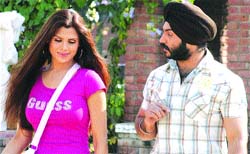 Amritsar, November 14
Punjabi film "Sat Sri Akal" has been opened to excellent response from public at Sangam. The movie portrays the traditional values and sentiments which have strongly rooted in the Sikh religion.



A still from the Punjabi flick which opened to a packed house in Amritsar.
Lukewarm response to SGPC foundation day
Amritsar, November 14
The foundation day of the Shiromani Gurdwara Prabandhak Committee (SGPC) evoked lukewarm response with only three members attending the function. SGPC president Avtar Singh was conspicuous by his absence. Jathedar Akal Takht Giani Gurbachan Singh, in his message, said the SGPC originated in the 1920s with the Gurdwara reform movement.
CM, wife perform langar sewa on Gurparb
Amritsar, November 14
The birth anniversary of the first Sikh Master Guru Nanak Dev was celebrated with great religious fervour and devotion with lakhs of devotees paying obeisance at the Golden Temple on Thursday.
Campus Buzz
Knowledge updating must for teachers: Expert
Amritsar, November 14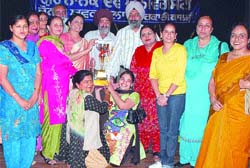 A three-week refresher course in computer science, electronics and IT was inaugurated at GND University by renowned academician Dr SS Bhatti, who is also former professor and head of department of applied physics of the university, on November 12. As many as 20 teachers from different colleges and universities of the state attended the course.

Jubilant students and teachers of the SR Government College for Women receive the zonal youth festival winners trophy in Amritsar.— A Tribune photograph