CPM reopens inquiry against ex-unit head
Chandigarh, November 14
The CPM has reopened the inquiry against its Punjab unit head Balwant Singh. Balwant was removed from all party posts and suspended from primary membership of the party following allegations of moral turpitude.
State Youth Cong begins 'democratic' poll process
Chandigarh, November 14
The Punjab Youth Congress (YC) has initiated the process for the first "democratic" election of its body by holding a draw to select six districts, which will be reserved for Scheduled Caste (SC), women and women SC candidates.


28 Pak prisoners released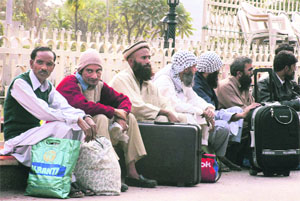 Attari, November 14
Freedom meant very little for the three mentally challenged prisoners who were among the 28 Pakistani prisoners who crossed over to their country through the Attari/Wagah joint check post after their release by the government of India in a goodwill gesture.
Friday freedom: Pakistani prisoners, who were released in a goodwill gesture on Friday, wait at the Attari/ Wagah joint check post to go home. — PTI photo

4-pt plan to bring socio-economic revolution: Capt Kanwaljit
Mohali, November 14
The state government has drawn a four-point programme for bringing about a socio-economic revolution in the state, which will be implemented through the cooperative department to make the state prosperous and ensure its all-round development.
Pathankot-Delhi flights to resume from Dec
2 ITIs declared centres of excellence
Gurdaspur, November 14
Decks have been cleared for the resumption of air flights between Delhi and Pathankot from the first week of December.
Amritsar-NY AI flight from today
Amritsar, November 14
Air India, in its bid to fill the void created by the suspension of flights by Jet Airways and Singapore Airlines, has decided to re-launch its hub spoke operation from the Amritsar International Airport to New York from tomorrow.
Brahmins' contribution to Sikhism highlighted
Amritsar, November 14
Despite the fact that Brahmins made a significant contribution during the times of Sikh Gurus, their role has not been highlighted so far. Out of 35 authors whose writings have been incorporated in Guru Granth Sahib, 16 were Brahmins, making their contribution to the holy book to 45 per cent. The Bhatt Brahmins sang and wrote in the praise of Sikh Gurus and 11 of them had even laid down their lives for the cause of Sikhism during the lifetime of Sikh Gurus. They were bestowed with the honour of preacher (Manjis) by the Gurus.
23 pc hike in min wages proposed
Chandigarh, November 14
The Minimum Wages Board under the chairmanship of labour minister Tikshan Sud has proposed a 23-per cent hike in minimum wages in respect of 60 scheduled employments in the state.
Punjab gets two weeks to submit report
Chandigarh, November 14
Punjab today made it clear that the fake currency case, allegedly involving former district police chief Gurcharan Singh Pherurai, would be probed in complete totality. The state now has two weeks time to submit the report. The case will come up on December 17.


Sexual Exploitation Case
Court reserves decision on DNA test of ex-sarpanch
Moga, November 14
A local court today reserved its decision for Monday on ordering the police to collect blood samples of Harnek Singh, former sarpanch of Ramuwala Kalan village, for DNA test to find out if the child born to the victim was his. The sarpanch is facing allegations of sexual exploitation.
Selection of anganwari workers, helpers faulty
Chandigarh, November 14
The Punjab and Haryana High Court has found faults with the selection of anganwari workers and helpers.
Report on road sought
Chandigarh, November 14
The Punjab and Haryana High Court today appointed Jalandhar Chief Judicial Magistrate and district town planner to submit report after carrying an on-the-spot study to find whether the road connecting Jalandhar city with the cantonment was a declared commercial road.


'Murdered' woman buried, no arrest made
Ratar Shatar (Gurdaspur), November 14
Even as the body of Hanefa Masih, a Dalit Christian woman of this village, who was allegedly murdered by members of the ruling SAD party, was buried this evening, the police has failed to arrest the accused involved in the crime.