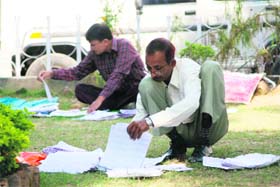 Polling staff check voter's list in the DC office at Jammu. Tribune photo: Anand Sharma
Banking on their vote for better future
For families living in and around this small township, passing class 12 by their daughters brings them no cheer. In fact, it is time to start worrying about their future as in the absence of any institution to study further, the only option available to them is to get their daughters married.
70,000 to decide fate of 9 in Leh, Nubra
Leh, November 16
Leh and Nubra constituencies in Ladakh will go to polls tomorrow. Over 70,000 electorates are expected to exercise their franchise to decide the fate of nine candidates (five in Leh and four in Nubra).
Cong, PDP, NC 'evoked' regional bias
Jammu, November 16
The BJP and the Panthers Party, which have adopted an attitude of do or die for winning more seats than the 2002 elections, claim the anti-incumbency factor may weigh heavy not only against the Congress and the PDP that shared power in the state for five and a half years, but against the NC also.
'Wrong' info in voter's lists
Jammu, November 16
The Jammu State Morcha (P) has alleged that the Election Commission has not provided voter lists with accurate information "It is surprising that after spending so much money and time on the preparation of updated electoral rolls these do not carry accurate information about the voters due to which many of them will be denied the right to exercise their franchise," JSM (P) president Virender Gupta said.

Malegaon Blast Case
Probe Sinha's 'relations' with Pandey: Mufti
Jammu, November 16
PDP patron Mufti Mohammad Sayeed today sought a thorough probe into the incident where former J&K Governor, Lt-Gen SK Sinha (retd), reportedly hosted Malegaon blast accused Dayanand Pandey, alias Amritanand, in 2007.
2 lecturers sacked for bunking poll duty
Srinagar, November 16
Acting tough ahead of the first phase of poll, the government has terminated the services of two contract lecturers for allegedly defying orders to perform poll duty.
Poll: Youth indifferent
Jammu, November 16
While dissension has become a routine and the heavyweights busy changing their loyalties overnight, by and large youths in Jammu not only feel disenchanted with the degeneration of politics, but also find themselves standing at the crossroads.


Security agencies geared up
Jammu, November 16
As the state goes for the first phase of the Assembly elections tomorrow, elaborate security arrangements have been made by the agencies to thwart any attempt by militants to disrupt the peaceful conduct of the polls.
Melting snow leaves Srinagar areas waterlogged
Srinagar, November 16
First it was snowfall on Friday which affected normal life and then it was melting of snow that left many areas in the city waterlogged on Saturday.
Construction Work
Mosque plays with rules: Residents
Srinagar, November 16
The residents have alleged that the construction work undertaken by a mosque in the green belt area of Rainawari on the banks of Dal Lake is against the directions of the administration.
24 labourers killed as bridge collapses
Srinagar, November 16
At least 24 labourers were killed when a newly constructed bridge collapsed, making the truck carrying them plunge into the Jhelum near Uri in north Kashmir this morning. Those killed included 14 from Bihar and 10 local labourers.
Landmine defused, 4 ultras held
Srinagar, November 16
Ahead of the first phase of assembly elections, the security forces today defused a landmine in Baramulla district and arrested four ultras in the valley. The landmine, fitted in a pressure cooker weighing 6 kg, was detected near Liaser Bridge in the Dangiwacha area of Baramulla district, a police spokesman said.
Villagers up in arms against varsity
Tikri (Udhampur), November 16
With poll campaigning gaining momentum, residents of over 12 villages of Udhampur tehsil have decided to launch an agitation against management of the Shri Mata Vaishno Devi University (SMVDU) for their failure to fulfil the promise of appointing locals on different posts in the university.
Concede demands, say excise staff
Jammu, November 16
The Jammu and Kashmir Excise Employees Welfare Union has urged the government to fulfil long-pending demands of employees of the Excise and Commercial Taxes Department.
'Holistic approach needed to tackle financial crisis'
Jammu, November 16
Dr M.M. Goel, professor in Kurukshetra University and chairman of Department of Economics, has said the impact of global financial crisis can be minimised by adopting holistic, comprehensive and systematic approach in place of ad hoc crisis management by the government.
Hindi play staged
Jammu, November 16
Natrang's highly-acclaimed Hindi play "Mere Hisse Ki Dhoop Kahan Hai" directed by Balwant Thakur was staged at Abhinav Theatre here today.
Charred body of woman found
Udhampur, November 16
The charred body of a woman was found on the premises of a doctor in Bhaderwah today. The deceased has been identified as Sakina Begum, wife of Manzoor Ahmed Matoo, a resident of Rambagh, Bhaderwah.
'Upgrade' civic amenities
Srinagar, November 16
Stressing the need to upgrade civic amenities here in consonance with the master plan, Governor N.N. Vohra today said steps should be taken for implementation of conservation measures for the water bodies, especially the Dal Lake.
400 more Hajis leave for Jeddah
Srinagar, November 16
Another batch of 400 Hajis from the state left in two special flights for Jeddah from Sheikh-ul-Alam International Airport here today, official sources said.
PDP names 4 candidates
Srinagar, November 16
The PDP today announced its another list of four candidates for the ensuing Assembly elections in Srinagar district.