27 coops to merge with Markfed
Patiala, November 21
Markfed has formulated a proposal to take over 27 Cooperative Marketing Societies across Punjab. It has proposed to amalgamate these societies under the provisions of the Punjab Cooperative Societies Act 1961.



AISAD open to tie-up
Patiala, November 21
The All-India Shiromani Akali Dal (AISAD) will not only contest all 13 Lok Sabha seats in Punjab, it is ready to have an alliance with any political party accepting its agenda for 104 seats across the country having considerable Sikh influence.
Sehajdharis may be debarred from 'Sikh quota'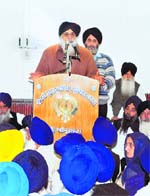 Amritsar, November 21
The general house of the SGPC, scheduled to meet here tomorrow to elect the new president and other office- bearers, is likely to pass a resolution to debar Sehajdharis from securing admission under the 'Sikh quota' in the SGPC-run educational institutes, including medical and engineering colleges.





Chief Minister Parkash Singh Badal addresses SGPC members at Teja Singh Samundari Hall in Amritsar on Friday. Photo: Vishal Kumar

'Rahul's remarks poll stunt'
Patiala, November 21
Dubbing Rahul Gandhi's remarks on 1984 anti-Sikh riots as a mere political stunt, Punjab minister for cooperation and senior SAD leader Kanwaljit Singh has advised the former to make the Congress present a resolution maing an apology to Sikhs in the coming winter session of Parliament if the party was serious to mend fences with Sikhs.


Coop Week concludes
Rajpura, November 21
A state-level function was organised on the concluding day of the 55th Cooperative Week here yesterday. The cooperation minister, Capt Kanwaljit Singh, called upon farmers to adopt professional approach in agriculture.
Food basket full, thanks to Punjab & Haryana
Jalandhar, November 21
At a time when other sectors of the Indian economy like industry, real estate, transport, etc are facing the heat of the worldwide economic crisis, the agriculture sector has withstood the pressures of the economic downturn.
Seven Pak nationals may be freed today
Amritsar, November 21
While uncertainty continues to dog the release of Pakistan national Mukhtiar Ahmed, who had completed his sentence eight years ago, seven other Pakistan nationals were likely to return to their native country tomorrow.
PTU to start online counselling
Mohali, November 21
Punjab Technical University (PTU) is starting online counselling from the coming session so as to help save time and effort of the students.
Sikh body calls for transparency in SGPC poll
Chandigarh, November 21
The Sikh National Organisation today deplored the lack of conscience debate and transparency in the election process of the SGPC, which is scheduled to elect its president at its general house meeting in Amritsar tomorrow.
NRI Sabha polls
Jalandhar, November 21
Elections of seven district presidents of the NRI Sabha will be held between December 16-28.


Badminton champ held for smuggling heroin
Gurdaspur, November 21
Pankaj Dutta, a national-level badminton champion along with another youth was arrested today for their alleged involvement in smuggling narcotics. The police seized 670 gm of heroin from them.