Showing blue films to students
Parents come out in school's support
Patiala, November 22
Parents of children studying at St Mary School, Sanour, came openly in the support of the school management and signed a resolution to express their solidarity with the school today. The school management called parents' meeting in which a large number of parents were present. School principal Father James clarified the entire movie episode.
Denied salary, employee commits suicide
Rajpura, November 22
An employee of the Irrigation department stationed at Rajpura reportedly committed suicide late last night.
Murder mystery solved; 2 held
Bassi Pathana, November 22
The local police claims to have solved the mystery behind the murder that took place on October 1 with the arrest of two culprits. However, the body is yet to be recovered from the Bhakra canal.
Oils worth Rs 10 lakh destroyed
Kharar, November 22
Goods worth Rs 10 lakh in a godown located on the Landran road was destroyed in a fire today morning. It took 45 minutes for a fire tender to douse the fire. Ghee, refined, groundnut and other edible oils were stored in the godown.
Haryana Roadways to ferry schoolchildren
Kalka, November 22
The local Haryana Roadways sub depot has started a bus service from Kalka to Chandimandir for students of Kendriya Vidyalaya 1 and2. This was stated by Ajay Singla, block Congress spokesperson. He stated that With this the long-pending demand of the parents and students residing in Kalka, Pinjore and its vicinity has been fulfilled.
12 hurt in accident
Ambala,November 22
At least 12 persons, including eight women, were injured at Dukhari village near Ambala cantonment when a Skoda car collided head on with a gypsy today. The injured have been admitted to a local civil hospital.
CAT directs dept of personnel to interview applicant
Chandigarh, November 22
The Central Administrative Tribunal (CAT) has directed deputy regional director of the department of personnel and training to provisionally interview the applicant, Bhajan Lal, who had applied for the post of sub-inspector (SI) in the Central Police Organisation (CPO) with subject to final order.
Man arrested for cheating
Chandigarh, November 22
The police has arrested a resident of Bihar and booked his accomplice on the charges of duping a Colony No. 5 resident of Rs 25,000.
Teenager held for raping 4-yr-old
Chandigarh, November 22
The police has arrested 19-year-old Hashim, a resident of Burail village, for allegedly raping a four-year-old girl of the same village at her residence.
Landlord-tenant dispute, 2 assaulted
Mohali, November 22
High drama prevailed at the district court complex when a group of nine persons attacked two here today. The assault took place due to a tenant-landlord dispute between two parties. Security guards were mute spectators to the entire incident.
Three tricksters held
Chandigarh, November 22
A day after a man accompanied by two women decamped with 45 gm of gold from a jeweller's shop in Sector 35, the police today nabbed the trio from Sector 7, Panchkula.
Mini-truck knocks down motorcyclist
Chandigarh, November 22
A motorcyclist was killed after being knocked down by a speeding mini-truck near cremation ground in Daria village last night.
Alwar resident booked for fraud
Chandigarh, November 22
The police arrested Chabu, a resident of Alwar, on the chares of cheating from Mani Majra, here today.


Jeev climbs to tied fourth spot
Chandigarh, November 22
Jeev Milkha Singh climbed up the ladder to occupy the tied fourth slot in the US $25 lakh UBS Hong Kong Open, as he fired a four under par 66 for a three-day tally of 10 under par 200 in Hong Kong today.
West Bengal lads triumph
Chandigarh, November 22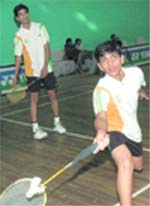 In a well contested girls singles under-13 semi finals, Rituparna Das (WB) edged past Pooja Mudaliyar (AP) 21-9,21-15 and G Ruthvika Shivani (AP) beat Shreyansi Pardesi(MP) 21-13,21-12 to enter the finals of the Sunrise (India) All-India Junior Badminton Championships-2008 being played at the Sector 42 badminton hall here.




Santosh Ravnsi and Saharash of Andhra Pradesh during their doubles match in the All-India Junior Badminton Championships-2008 at the Sector 42 badminton hall on Saturday. Tribune photo: Parvesh Chauhan.
DAV-15 emerge victorious
Chandigarh, November 22
DAV Model School, Sector 15, clinched the overall boys championship with 99 points on the concluding day of the Inter- School Athletics Meet being organised by the UT education department at the Sector 7 sports complex here yesterday.
Roller skating c'ship from Nov 29
Panchkula, November 22
The District Roller Skating Association of Panchkula is conducting the District Roller Skating Championship on November 29 and 30 in the skating rink of Blue Bird High School, Sector 16.
Judge, Barara share lead in NRIs' Golf
Chandigarh, November 22
Jogeshwar Singh Judge and Tony Barara shot identical seven over par 79 cards to share the lead on the penultimate day of the Budget Signs Chandigarh Golfing Tour for NRIs on the par 72 SEPTA greens at Chandi Mandir today.
Green Field outplay Federation XI by 7 wickets
Panchkula, November 22
Green Field Cricket Academy, Mohali, outplayed Federation-XI by seven wickets and entered the final of the 1st Otobi Cup Twenty-20 Under-19 League-cum-knock out basis Cricket Tournament organised by the Cricket Federation of India at Cricket Stadium, Sector 3.
Victory for Xavier's lads
Chandigarh, November 22
Loudly cheered by the hosts' students, St Xavier's Senior Secondary School, Sector 44, staged a remarkable rally to snatch a thrilling 56-53 verdict against their rivals New Public School, Sector 18, in the boys final of the Emily Memorial Basketball Tournament at the St Xavier's School courts here today.
'We have same goals, to try and build players for the country'
Chandigarh, November 22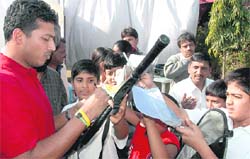 Reacting on the meeting that held yesterday with All-India Tennis Association (AITA) at Banglore over the concern of gamut of Apollo Tyres' Mission 2018 Challenge, Indian tennis icon Mahesh Bhupati, said, "The meeting was casual and they were satisfied with what we are doing."

Mahesh Bhupathi interacts with media personnel in Chandigarh Club on Saturday. Tribune photo: Manoj Mahajan.
500 players participate in netball c'ship
Chandigarh, November 22
As many as 500 players from all over Chandigarh schools, colleges, clubs and university are participating in the State Junior Netball Championship 2008 both boys and girls for Kailash Bahl Memorial Netball Trophy under the auspicious of Netball Association of Chandigarh affiliated to the Netball Federation of India at KB DAV-7, Chandigarh, here today.
Soccer trials today
Chandigarh, November 22
The Chandigarh Football Association (CFA) will conduct selection trials to choose probables for coaching camp for the preparation of city's participation in the AIFF Under-14 Girls' Festival of Football. According to CFA general secretary Rakesh Bakshi, trials will be held on Dev Samaj College ground in Sector 45 on November 23 at 3 pm. The selected players will attend a coaching camp .