BJP MP denies controversial statement
Chandigarh, November 26
Bharatiya Janata Party MP from Amritsar Navjot Singh Sidhu today denied making the controversial reference telling people during electioneering in Chhattisgarh that siding with a rebel BJP leader would amount to eating beef while submitting his reply to the Election Commission today.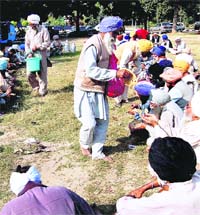 Sugarcane farmers and members of the Bharatiya Kisan Union partake of langar in Chandigarh on Wednesday. They are protesting against the Punjab government and Sugarfed for their failure to clear dues. Tribune photo: Manoj Mahajan
12 women leaders in race
Patiala November 26
Race to grab the top slot of the Punjab Mahila Congress, one of the front organisations of the PPCC, has started among women Congress leaders with the elevation of the organisation chief Gurkanwal Kaur as general secretary of the Punjab Pradesh Congress Committee (PPCC) recently .
Will contest Hoshiarpur seat: Dullo
Hoshiarpur, November 26
Though the allotment of party ticket for the coming Lok Sabha elections will be decided by the Congress high command, keeping in view workers' response, I have made up my mind to contest the election from the Hoshiarpur (reserved) Parliamentary constituency.
Cong MP stands up for tanneries
Jalandhar, November 26
Congress MP Rana Gurjit Singh has come to the rescue of defaulter polluting tanneries, power supply to which was disconnected by the PSEB authorities yesterday on the directions of the Punjab Pollution Control Board.
Punjab YC chief's poll on Dec 23
Jalandhar, November 26
The Central Election Authority of the Indian Youth Congress has set December 23 for the declaration of new Punjab Youth Congress president and committee. Disclosing this, state secretary of the Youth Congress, Uttarakhand and district returning officer, Jalandhar Urban, for the elections, Reetu Kandiyal said that nomination for Block Youth Congress election would be filed on November 28 and 29.
CPI for relief to terrorism-hit
Sangrur, November 26
The CPI and the CPM will contest more than six seats in Lok Sabha (LS) elections in the state. Besides this, the state leadership of both parties will meet in a fortnight to finalise modalities of alliance with other Left democratic and secular parties.
AISAD to contest 110 LS seats
Sangrur, November 26
To broaden its base in the country, the All-India Shiromani Akali Dal (AISAD) has identified 110 seats (where Sikhs have decisive vote bank of above 10,000 votes) in various parts of the country where it will field its candidates for Lok Sabha elections.


Music industry losing to pen drive
Patiala, November 26


Global meltdown has hit the Punjabi music industry hard with hardly any new music albums being cut these days by singers or music companies, otherwise known for releasing hundreds of music albums every month. The advent of USP pen drive, a normal accompaniment of car music systems, has given a final blow to the industry, which was already facing crumbling returns due to the ever-growing spectre of piracy.
Delay in sales tax refund
Punjab plans to plug loopholes
Chandigarh, November 26
Finally, Punjab is evolving a mechanism to fix responsibility in cases of inordinate delay in refunding illegally recovered sales tax amounts.
Mandi Board's lottery scheme for farmers
Moga, November 26
The Punjab Mandi Board has introduced a lottery scheme with to motivate the farmers to bring entire kharif and rabi produce in 'mandis' (grain markets).
Declared dead, man starts breathing at crematorium
Bathinda, November 26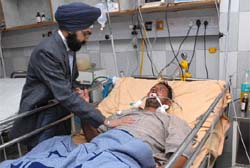 A man who was presumed dead, today started breathing when he was about to be cremated. It all started on Monday night when Rajpal Singh (35) who after consuming liquor, mistakenly took some poisonous substance lying nearby at his home. All other family members were away to a marriage function at that time.


Rajpal Singh being treated at Nagpal Hospital in Bathinda on Wednesday.Tribune photo: Malkiat Singh
BSF, Pakistan Rangers hold meeting
Attari, November 26
Senior officials of the Border Security Force and the Pakistani Rangers here today held a routine monthly meeting in the conference room on the Pakistani side to discuss bilateral and local issues. The Indian side was led by Vimal Satyarthi, commandant C sector while the Pakistani delegation was headed by Tariq Sultan Awan, wing commander B Sector.
SAD (A) seeks arrest of killers
Sangrur, November 26
Hundreds of persons, including women, led by general secretary of the SAD (Amritsar) Jeet Singh Alloarkh today staged a dharna and held a rally in front of the office of the deputy commissioner here in protest against the non-arrest of alleged killers of a woman and three men.


HC notice to Akali MLA Harish Dhand
Frontier Cycles Rape Case
Chandigarh, November 26
An Akali MLA may soon be made party in the Frontier Cycles rape case.
HC releases increments to five retired judges
Chandigarh, November 26
As the recommendations of the First National Judicial Pay Commission (Shetty Commission) have been accepted by the Apex Court, the state government cannot escape its implementation.
Transport tribunal to get facelift
Chandigarh, November 26
Punjab State Transport Appellate Tribunal will soon get a facelift.