Security up in booths
New Delhi, November 28
Tight security arrangement has been made at all polling stations to thwart any untoward incident during the elections. This has been done keeping in view the Mumbai shooting incident.
2 SAD/BJP workers hurt in attack
New Delhi, November 28
Two persons were injured when a group of people attacked the SAD/BJP office in the Rajouri Garden area of West Delhi last night.
Mumbai attacks, not a poll issue: Jaitley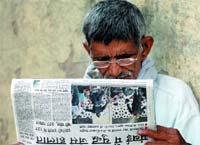 New Delhi, November 28
Notwithstanding the Bharatiya Janata Party's (BJP) claim that it is not capitalising on the Mumbai attacks, top party leaders admit to a distinct advantage and say they don't deserve to remain in politics if they lose even this opportunity.


A man goes through a newspaper after terrorists strike in Mumbai, at Connaught Place on Friday. Tribune photo: Mukesh Aggarwal
20,000 weddings may lead to poor voter turnout
New Delhi, November 28
Delhi is getting set to celebrate about 20,000 weddings while the political parties are worried as nuptials may affect the election scenario resulting in a low voter turnout.
FIR on toll-free SMS; info on click of mouse
Gurgaon, November 28
Now, lodging a police complaint or an FIR is just an SMS away, and that too a toll-free one. And if you want to know the status of your complaint/application or get any information about the local police department, just log on to the Gurgaon police website www.gurgaonpolice.net.
Ranchi scribe gets Prabha Dutt Fellowship
New Delhi, November 28
Ranchi-based journalist Anupama Kumari was awarded with the Prabha Dutt Fellowship for excellence in journalism here today.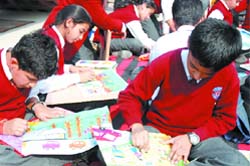 Schoolchildren participate in a painting competition at Gandhi Memorial, New Delhi, on Friday. Tribune photo: Manas Ranjan Bhui
JNUSU condemns Mumbai attack
New Delhi, November 28
Jawaharlal Nehru University Students' Union (JNUSU) held a candle light condolence and peace meet last night to condemn the mayhem in Mumbai.
Students protest against institute
Faridabad, November 28
Large number of students of Indo-Canadian School of Advanced Technology blocked the Delhi-Surajkund Road for more than two hours. They were protesting against the high-handed and negligent attitude of the institute's management.
Students get diplomas
New Delhi, November 28
In an attempt to encourage and introduce young talent to the fashion and design industry, the JD Institute of Fashion Technology recently held the JD Convocation Award-08 in the Capital.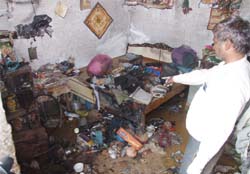 The state of a house that caught fire at Firoz Gandhi Colony in Gurgaon following an LPG cylinder leak on Friday. Tribune photo: Rajesh Kumar Yadav
VC of GGSIPU gets fond farewell
New Delhi, November 28
Guru Gobind Singh Indraprastha University bid farewell to its founder vice-chancellor, Prof K.K. Aggarwal, whose tenure comes to an end on November 30.
Friendship club cracked, 3 held
New Delhi, November 28
The Crime Branch of Delhi police busted a 'Friendship Club' running from an office in Anuvrat Tower, Wazirpur Industrial Area Commercial Complex and arrested three persons, including a woman yesterday. The club, known as the "Sunrise Friendship Club", took out extensive advertisements in leading newspapers in Delhi, Mumbai, Bangalore and Maharashtra. The targeted customers were men duped by the club on the pretext of providing 'willing female friends'.
Bodies of 3 kids fished out of canal
Ghaziabad, November 28
A day after five schoolchildren were run over by a train here, the bodies of three children were fished out of a canal flowing below the railway track, the police said on Friday, even as angry people protested the callousness of the local administration.
5 railway stretches prone to mishaps
Ghaziabad, November 28
A day after five children were crushed by a speeding train here, the district administration on Friday said five other railway crossings posed equal danger.
Noida plot rate issue taken to HC
Noida, November 28
The Allahabad High Court will hear the plea for increased plot rates for Noida Residential Scheme 2004 on December 5, 2008. Apart from the CBI report and some other issues connected with Noida Authority's handling of the 2004 residential draw, the issue of rates revised for the 2004 residential scheme will be taken up by the High Court for which the court has received writ applications from a number of applicants.
Noida cable operator shot dead
Ghaziabad, November 28
Noida cable operator Ashok Sharma was shot dead in Ghaziabad. His body was recovered from an Alto car near Vijay Nagar bypass yesterday. The car was locked from inside and a few liquor bottles, glasses and some eatables were recovered from the car by the police later.
IMF celebrates golden jubilee
New Delhi, November 28
The Indian Mountaineering Foundation (IMF) celebrated its golden jubilee here in the presence of Prime Minster Manmohan Singh at his residence.