Accommodating VIPs, NRI passenger left in lurch
Amritsar, December 2
Accommodating VIP passengers at the last minute, the Singapore Airlines on Sunday evening did not allow a confirmed NRI ticket holder, Malkit Kaur, board the flight for Malaysia en route Singapore.
Unfazed by Mumbai onslaught, peace riders hit holy city
Amritsar, December 2
The strained relations between India and Pakistan in the aftermath of the audacious terror attacks in Mumbai in which about 200 persons, including several foreign nationals, were killed and hundreds were injured could not dishearten a group of peaceniks from Bangalore who travelled across the country on their bicycles to spread the message of peace.



Across The Nation: A group of peaceniks from Bangalore. A Tribune photograph
Fortis hospital launches drive against AIDS
Amritsar, December 2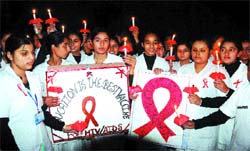 Fortis Escort Hospital launched a week-long campaign from SG Thakur Singh Art Gallery to create awareness among the people against AIDS. Health minister Laxmi Kanta Chawla was in the forefront along with various NGOs for launching a campaign against HIV/AIDS by leading a candlelight march and was joined by doctors and paramedical staff of the hospital.
Nurses of Fortis hospital during a candlelight march to mark World AIDS Day in Amritsar. Photo: Vishal Kumar
Excise dept refunds Rs 71 lakh VAT
Amritsar, December 2
The excise and taxation department today refunded the VAT amount of Rs 71 lakh belonging to eight dealers lying pending with it since March, 2007.
'Parkinson's disease patients can lead normal life'


Amritsar, December 2
Patients of Parkinson's disease can lead a near normal life for a long span of time contrary to the existing notion that the patients loose their mental faculties soon and become lunatic, says Balbir Singh Ahuja, a businessman, who is suffering from the disease. He has set an example by leading a near normal life without disturbing his normal routine. It was will power and determination that made Ahuja overcome this neurological disease and nobody could guess that he is a patient of Parkinson's disease.
Balbir Singh Ahuja
Campus Buzz
Cyber crime figures at valedictory function
Amritsar, December 2
With the growing dependence on computer and Internet, cyber crime and instances of cyber terrorism are likely to acquire a more prominent place in the world of crime.
CBSE to tie-up with British Council
Amritsar, December 2
The Central Board of Secondary Education (CBSE) would tie up with the British Council for preparing a project to integrate sports and other cultural events with literary skills to enhance the overall development of school students in the country.
Facelift for Guru Nanak Auditorium
Amritsar, December 2
The Guru Nanak Auditorium in the city center is being given the much needed facelift. Shwet Malik, mayor of Amritsar Municipal Corporation, unfolded Rs one-crore plan for the city's only government owned auditorium.
Farm loans issued
Amritsar, December 2
The deputy general manager of the Oriental Bank of Commerce issued farm loans worth Rs 6.5 crore to more than 200 farmers during a special agricultural camp held here. Addressing the gathering, DGM S.N. Chopra said different loan schemes were available for the farming sector.
Spring Dale lifts hockey trophy
Amritsar, December 2
Spring Dale Senior School won the four-day CBSE national hockey championship under-19 boys category concluded here today.