Police foils gherao of Pak delegation
Patiala, December 2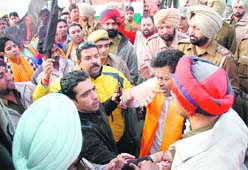 Protesting against the Mumbai terrorist attack, activists of the Bajrang Dal, Shiv Sena (Bal Thakeray) and VHP attempted to gherao visiting 45-member Pakistani delegation, led by Lahore High Court judge Chabar Raza Rizvi, in front of a local hotel today.


The police arrests activists of the Bajrang Dal for burning the national flag of Pakistan in front of Pakistani delegates in Patiala on Tuesday. Tribune photo: Rajesh Sachar
Only six takers for Pathankot-Delhi flight
Pathankot, December2
This town dotted with one of the India's biggest cantonments, Air Force Station, and litchi and mango orchards, will come on the country's air map again when civil air flights will be started between Pathankot and Delhi tomorrow.
Rural dept, police at loggerheads over houses
Batala, December 2
Employees of the Department of Rural Development and Panchayat have allegedly been terrorised by the police after a criminal case was registered against a section of their colleagues, including an official of the rank of deputy director, on a complaint of Hardeep Lal, special police officer, Punjab Home Guards. Hardeep was allegedly stopped from illegally occupying a residential quarter belonging to the department yesterday.
Finance panel members in Punjab today
Chandigarh, December 2
The Finance Commission members, led by the chairman Dr Vijay Kelkar, would be in Punjab tomorrow as part of its all India states visit.
Pay bonus now, can't wait till Dec 31: Farmers
Jalandhar, December 2
Rejecting the offer of Punjab Food and Supplies minister Adesh Partap Singh Kairon that bonus on paddy will be paid by December 31, farmers have urged him to make the payment immediately. Already the payment of bonus has been delayed by five or six weeks and the government should not make excuses to delay it further by four weeks.
'Need to change Army recruitment method'
Amritsar, December 2
Preliminary inquiry conducted by district magistrate Kahan Singh Pannu has indicted the Army for adopting "archaic and inhuman" method during the recruitment rally where two youths were killed in a stampede yesterday.
Chair in Sikh Studies at US varsity to start today
Chandigarh, December 2
Growing interest of Western scholars in Punjab in general and Sikhs in particular has paved way for the formal launch of the Sardarni Kuljit Kaur Bindra Chair in Sikh Studies at Hofstra University tomorrow. Ishar Singh Bindra and his family have endowed the Chair in Sikh Studies in honour of family matriarch Kuljit Kaur Bindra.


Lawyers to observe bandh today
Amritsar, December 2
A new dimension has been added to the ongoing tussle between advocates and the district administration as the district police has failed to register a case against certain advocates for the alleged ransacking of the office of SDM Sandeep Rishi in spite of a complaint lodged by the officer.
HC for vigilance probe into defective septic tanks
Chandigarh, December 2
Taking a serious view of at least Rs 4 crore going down the drain due to installation of defective septic tanks in Punjab villages, the Punjab and Haryana High Court today made it clear that it wanted the state vigilance bureau to probe the matter.