Mumtaz Kousar
First woman to contest from militancy-hit area
Sungli (Reasi), December 2
In this terrorism-hit state, one of the biggest challenges is to make elected bodies more representative and democratic in character and to enhance participation of all the sections of the society, especially women folk in the electoral process. Although political parties have promised to give quota to women, however, their assurances have remained on papers only. But there are some brave women who have voluntarily come forward to face this challenge.
Winged guests add to reserve's beauty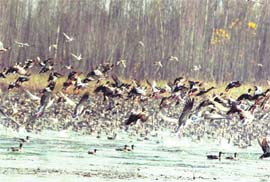 Srinagar, December 2
The phenomenal aura of dawn and dusk at Hokersar Wetland Reserve has an element of enticement for nature lovers. Since ages this world famous wetland reserve, which has been reduced to seven sq km from 14 sq km, has been attracting avian guests from distant lands as far as Siberia, Europe, South and South East Asia, during winter season. As winter has already set in, migratory visitors are here. More avian guests are expected this season due to early snowfall and favourable temperature.
Ayurvedic dispensaries get stepmotherly treatment
Jammu, December 2
Even as the successive state governments have made tall claims of reviving Indian system of medicine, one visit to any of the ayurvedic dispensaries in the state is enough to belie them.
"Licence" to break traffic rules
Jammu, December 2
By January next year, one of the parties would have won the elections and there would be a quantum jump in vehicles brandishing flickering "lal batis". Going by their ever-swelling number, it appears that the city of temples has become the city of VIPs.