City college students make it big with 67 placements
Tribune News Service
Jalandhar, December 2
As many as 32 students of BCA-III and B.Com-III of the Prem Chand Markanda College for Women have been selected by Unicon Company and Cryo Bank International through campus placements.
A similar campus placement drive was organised by WIPRO at DAV College, Jalandhar. As many as 13 graduate and postgraduate students have been selected at an annual package of Rs 2 lakh each.
KMV College also organised a placement drive by Hughes Team. Nearly 22 students of BA, BSc and IT-III were selected.
Reading day
Reading Day was organised for students from nursery to class XII of the CT group of institutions, in collaboration with the "Scholastic" group. The day was observed to inculcate reading habits among the students.
Tricycles distributed
World Disabled Day was celebrated at Pingla Ghar by the St Soldier group of institutions here on Monday where students of the physiotherapy department of St Soldier Co-Ed College organised a physiotherapy-cum-check-up camp. Students told physiotherapy exercises to the physically challenged. Students alongwith their teachers check the blood groups of patients. Chairman Anil Chopra and vice-chairperson Sangeeta Chopra distributed tricycles among the physically challenged. They also gave clothes and sweets to the inmates of Pingla Ghar.
Homage paid
The staff and the students of RK Memorial GM Model Senior Secondary School, Model Town, paid homage to the Mumbai attack victims. A two-minute silence was observed on this occasion.
Prize distribution
Police DAV Public School, PAP Campus, organised its annual prize distribution function "Samaj ka pratibimb toot-teh sambandh - reflections of breaking bonds" on November 28. Students presented a cultural programme on the occasion.
Debate competition
The Indian Association of Parliamentarians on Population and Development, New Delhi, organised the fourth national universities debate competition on the topic "Population and environment". Jyot Prakash, a student of DAV College, Jalandhar, bagged the second position. He was awarded Rs 25,000.
Free medical camp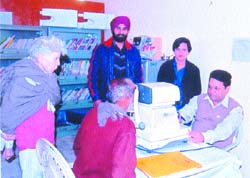 Darshan Academy, Jalandhar, organised a free medical camp on November 30 at its senior wing, Kot Sadiq, Kala Sanghian Road. A team of medical specialists participated in this noble work and examined the patients free of cost.






A medical specialist examines a patient at Darshan Academy in Jalandhar. A Tribune photograph

Hindi skit
An inter-house Hindi skit contest was organised at CJS Public School here on Tueday. Students presented different skits on social events like environmental degradation, communal harmony, dowry, corruption, drug addiction and much more.
Declamation contest
Garima Arora, a student of the Apeejay College of fine Arts, bagged the first prize in an inter-college declamation contest held at Pushpa Gujral Science City, Kapurthala, on Tuesday.
AIDS awareness rally
The Red Ribbon Express and the Youth Red Cross Society, in association with Rotaract Club of the Government Arts and Sports College, jointly organised an AIDS awareness rally on the occasion of World AIDS Day on December 1. The rally started from the college campus and culminated at Football Chowk.