High-flyers reach Assan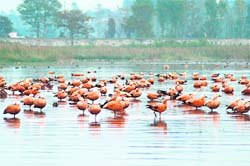 Dehradun, December 3
The Six Bar-Headed Goose and the Grey Leg Goose have been spotted at Assan. These migratory birds come from Ladakh. Among the other migratory birds that have arrived in Assan, the Ruddy Shelduck, popularly known as Surkhab, outnumber the rest. Few know that 10 per cent of the world population of Ruddy Shelduck comes to Assan and surrounding Yamuna valley areas each year.
Ruddy Shelducks flock at Assan Conservation Reserve near Dehradun. Tribune photos: Anil P. Rawat
Drumming up support
Dholis in Garhwal have fallen on bad days. With people opting for music bands on special occasions, the tradition of playing the drum is slowly dying


Dehradun, December 3
The drummer or "dholi" plays a pivotal role in the hills, heralding the morn, announcing the opening of temple doors. The drummer plays the drum at happy occasions like the sanskar ceremony of a child as well on the solemn occasion of death. But the dholis have fallen on bad days."There are very few dholis in Uttarakhand now," informed Sohan Lal, a well-known drummer.
Petrol plant of a different kind
Dehradun, December 3
Seoul-based Green Power Company is contemplating an investment of $20 billion in Uttarakhand for setting up a plant to make alternative petrol from the byproducts collected from oil refineries.
The red plant wonders
Dehradun, December 3
Manipuri handicraft items made by red plant (kaona) on display at the khadi festival here have gained recognition in the international market because of their uniqueness and durability.