SGPC sticks to old definition of Sehajdhari
Chandigarh, December 3
Members of the SGPC executive, led by its president Avtar Singh, today laid down the definition of a Sehajdhari Sikh.



Raninder aspirant for Bathinda seat
Patiala, December 3
Former Punjab Chief Minister's son Raninder Singh today claimed that SAD chief Sukhbir Singh Badal was issuing frivolous statements meant to degrade his father Capt Amarinder Singh.
Capt to start campaigning from Dec 8
Chandigarh, December 3
Former Chief Minister and chairman of the Campaign Committee of the Punjab Pradesh Congress Committee (PPCC) Amarinder Singh will start the campaign tour of the state from December 8 from Sangrur. The five-day whirlwind tour will be rounded off at Ropar on December 12.


Punjab is first state in country to go in for commercial dairy farms
Chandigarh, December 3
Punjab has managed to give a new lease of life to dairying as an allied agriculture activity by being the first state in the country to go in for commercial dairy farms. This has helped in economic upliftment of dairy farmers as well as increasing milk production.
State sets new record in paddy yield
Jalandhar, December 3
Punjab has set a new record in per hectare paddy productivity. Breaking the 60-quintal barrier, Punjab has achieved 61 quintal per hectare yield of paddy this year. Confirming this, director, Agriculture, Balwinder Singh Sidhu said there had been a 167.33 lakh tonne production of paddy from 27.50 lakh hectares of area covered under this crop. Of it, 148.65 lakh tonne arrived for sale in grain markets. 120.74 lakh tonne had been procured by government agencies.
Panel on Rajasansi airport to meet in Delhi tomorrow
Amritsar, December 3
Even as the Jet Airways has terminated it's daily London flight from December 1 and the Singapore Airlines has given notice to withdraw its flight schedule from February next year, the Parliamentary panel constituted by the Union aviation minister will meet in Delhi on December 5 to review the entire gamut of issues which have resulted in the closure of the flights.
Old women to help check infant mortality
Sangrur, December 3
Expressing concern over infant mortality rate in Punjab i.e. 42 deaths before the age of one year per 1,000 live births as per the National Family Health Survey Report - Part III, the Rural Medical Services Association (RMSA) has chalked out a plan to involve old women for reducing the infant mortality rate by way of educating and motivating them for bringing their daughters and daughters-in-law to hospitals and health centres for institutional delivery. The association is of the view that imparting education to expectant mothers with regard to various problems during pregnancy such as basic minimum care during pregnancy, nutrition counselling, supplementation of iron and vitamins and 100 per cent immunisation is need of the hour.
Shia meet vows to enhance Indo-Pak ties
Samana (Patiala), December 3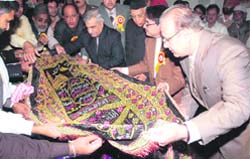 Delegates from India and Pakistan vowed to enhance people-to-people contact between the two countries at the fourth Ahle Baite International Shia Conference here today.




Mr Justice Shabbar Raza Rizvi of the Lahore High Court and Governor of Haryana A. R. Kidwai offer a chadar at the dargah of Panj Peer at Samana, near Patiala, on Wednesday. Tribune photo: Rajesh Sachar
World Bank team meets Badal
Chandigah, December 3
A team of the World Bank, currently in Punjab to review the implementation progress of the Third Implementation Support Mission, led by Shyamal Sarkar, today called on Chief Minister Parkash Singh Badal to apprise him about the outcome of their field visits in the state. Sarkar told Badal that the team had noticed appreciable progress in the construction of rural water supply schemes.
Aid announced for kin of dera clash victims
Chandigarh, December 3
President of the SGPC Avtar Singh said today that no Sikh should try and talk to Dera Sacha Sauda head Gurmeet Ram Rahim Singh in an attempt to reach a compromise or for any other reason.
Jathedar for fast relief to '84 riots victims
Mandi Ahmedgarh, December 3
Accusing the Punjab government of showing no concern about the welfare of '84 riots victims, Sikh organisations of the state have urged Prime Minister Manmohan Singh to direct the state to expedite disbursement of relief fund to the victims whose files have either been misplaced by officials or whose cases are pending due to technical complications.
Malta probe mission to visit Lanka
Hoshiarpur, December 3
A three-member delegation of the Malta Boat Tragedy Probe Mission, led by its chairman Balwant Singh Khera, will participate in the 12th mourning memorial meeting to be held in Colombo, Sri Lanka, on December 25.
Scholarship for hockey players
Sangrur, December 3
With a view to promote hockey in the area, the local Osho Youth Club today launched a monthly scholarship scheme for outstanding hockey players by introducing cash scholarships of Rs 500 per month for school-level national players and Rs 100 per month for school-level state players.


Court row: Officers meet CM
Chandigarh, December 3
A delegation of the Punjab Civil Service (Executive Branch) Officers' Association met Chief Minister Parkash Singh Badal today and demanded the registration of an FIR against the advocates who had allegedly vandalised the office of the Amritsar SDM and sub registrar.
DIG to probe the matter
Chandigarh, December 3
Over four years after playwright Avtar Kaur Jawandha went missing, Justice Ranjit Singh of the Punjab and Haryana High Court has directed probe under the supervision of Patiala range deputy inspector-general (DIG) of the police. The victim had worked as secretary with Punjab's former Chief Minister Harcharan Singh Brar.
DSP gets 5 days to surrender in fake encounter case
Chandigarh, December 3
The 1992 "fake" encounter of three constables has come back to haunt the Punjab police. A deputy superintendent of police (DSP), Ram Singh, was today granted time till December 8 for enabling him to surrender before Patiala Sessions Court in the case.