Militants attack LJP candidate's house
Top JeM ultra among 3 arrested
Srinagar, December 4
Militants fired upon the residence of Abdul Hameed Reshi, Lok Janshakti Party candidate from Shangus constituency in Anantnag district last night. The police said guards posted at the residence of the LJP leader retaliated. However, no loss of life or injury was reported.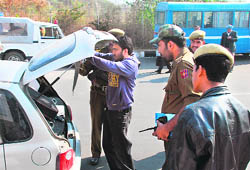 Hoax bomb call keeps cops on toes
Jammu December 4
A hoax phone call about the presence of a bomb in the High Court, Jammu wing, today set the police on alert and created panic in the city. ''Panic gripped the High Court complex and its surrounding areas when locals found policemen and the bomb disposable squad roaming in the area,'' sources said.

Cops check a car in the High Court complex in Jammu on Thursday. Photo: Inderjeet Singh

10 kg RDX seized from Doda
Jammu, December 4
Foiling militants' plans to carry out blasts, security personnel seized 10 kg of RDX in Doda district, which will go to the polls on December 17.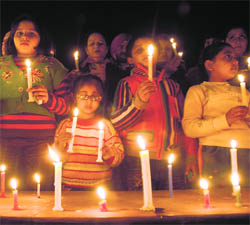 Children light candles, as a mark to express their indignation against the Mumbai terror attacks, in Jammu on Thursday. A Tribune photograph
Cops, outsiders beat up Jammu varsity guards
Jammu, December 4
In yet another incident of outsiders forcing their entry into the campus of Jammu University, a clash took place between the outsiders and the varsity guards at the Central Library late last night in which the latter were thrashed severely.
NC promises prosperity
Udhampur, December 4
Former Chief Minister and patron of NC Farooq Abdullah has asked the voters to exercise their franchise in favour of his party so that the vision of a prosperous state in which every individual lives with dignity and earns his livelihood with honest toil is given a practical shape.
Cong says it alone has definite agenda
Srinagar, December 4
Union minister of water resources and chief of the PCC Saifuddin Soz and former Chief minister Ghulam Nabi Azad addressed several election rallies in Rafiabad, Sopore, Sangrama and Pattan constituencies of Baramulla district today.
State gears up for fourth-phase poll
Srinagar, December 4
After the completion of three phases of elections to 21 constituencies spread over the three regions of the state, the scene now shifts to the fourth phase to be held on December 7. There are 256 candidates contesting from 18 constituencies of Baramulla and Budgam of Kashmir division, and Udhampur and Reasi districts of Jammu division.
Panthers rue absence of security cover
Jammu, December 4
Panthers Party chairman Bhim Singh today accused the state administration of "acting as a tool of the Congress and the PDP".
Tributes paid to Sheikh Abdullah
Jammu, December 4
Paying tribute to former Chief Minister Sheikh Mohammed Abdullah on his birth anniversary, Governor N.N. Vohra has described Sher-e-Kashmir as one of greatest leaders of his times whose secular and progressive outlook continues to be a source of inspiration.
Capt Chatnaya gets bail
Jammu, December 4
Captain Chatnaya's application seeking bail in the infamous Megha Razdan case was allowed today by the High Court of J&K at Jammu.
High court quashes PSA against 10
Srinagar, December 4
Jammu and Kashmir High court has quashed the detention of 10 persons under the Public Safety Act (PSA) for their alleged anti-national activities.
Protests over 'molestation' by RR troops
Srinagar, December 4
Protests were held in Kokernag (Anantnag) today against an alleged molestation attempt by soldiers in a village last night.