Young World


Youth fest: HMV, Apeejay win joint trophy
Tribune News Service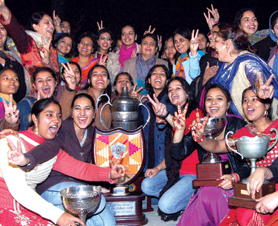 HMV students, after winning the overall trophy at the inter-zonal youth festival, celebrate the moment with their teachers. Photo: Suryakant

Jalandhar, December 4
The students of Apeejay College of Fine Arts, Jalandhar, and Hans Raj Mahila Maha Vidyalaya (HMV), Jalandhar, won the Inter-Zonal Youth Festival held at the Guru Nanak Dev University, Amritsar, here today.
Students of HMV bagged first positions in quiz, histrionics, semi-classical vocal, creative dance, vaar singing, still life, sketching, collage, painting and allocution. The students got second position in giddha, play, mime, poetical recitation, debate, western group song, cartooning, poster making and installation while they got third position in mimicry, ghazal, Indian group song and skit.
On the other hand, the students of Apeejay college bagged first position in painting landscape, poster making, clay modelling, flower arrangement (fresh), mime, classical instrumental percussion, classical instrumental (non-percussion), classical vocal, semi-classical, group song Indian, western group song, folk orchestra and second position in debate, skit, shabad/bhajan solo, geet/gazal, western solo, folk song, classical dance, creative dance. The college stood third in painting still life, cartooning, installation and gidha.
Workshop held
A one-day workshop on "effective teaching of English language" was conducted by CT Public School, Jalandhar on December 3. The workshop was organised with an aim to acquaint the English teaching faculty of CBSE schools from in and around Jalandhar with the new changes being done by the Central Board of Secondary Education.
The English curriculum of classes IX to XII was also discussed. Resource person Rajeev Trehan, Oxford University Press, Delhi, spoke at length about the changes in the English language and it usage.
Recruitment
As many as five students of the CT Institute of Hotel Management and Catering Technology were selected during a recruitment drive by McDonalds recently. The students were selected as managerial trainees with an annual package of 1.26 lakh.
Tree plantation
The students of KMV College, Jalandhar, celebrated van mahotsav here today and planted saplings in the college campus. Principal Atima Sharma urged the students to participate actively in environment conservation.
Birth anniversary
The students of St. Soldier Divine Public School, Mithu Basti, on Wednesday, Prasad observed the birth anniversary of the first President of India Dr. Rajinder Prasad. A Sports Day was organised on this day in which the tiny tots of pre-nursery, nursery, LKG and UKG, participated in various events.