No takers for plantation drive in govt schools
Jalandhar, December 4
The plantation drive that started before the beginning of the current academic session in Government Schools across Punjab has fallen flat due to the lack of interest from the authorities concerned. It has been more than five months and no groundwork has been done in this regard.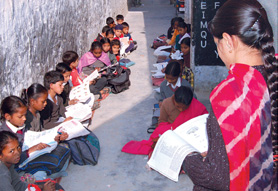 8 MC schools in dire straits
Jalandhar, December 4
The eight elementary schools under the Jalandhar Municipal Corporation are crying for facilities thanks to the indifferent attitude of the authorities. The schools were handed over to the civic body by the state education department for providing better education at grass root level.
Students of a government school at Shaheed Babu Labh Singh Nagar in Jalandhar. Photo: Suryakant

Youth fest: HMV, Apeejay win joint trophy
Jalandhar, December 4
The students of Apeejay College of Fine Arts, Jalandhar, and Hans Raj Mahila Maha Vidyalaya (HMV), Jalandhar, won the Inter-Zonal Youth Festival held at the Guru Nanak Dev University, Amritsar, here today.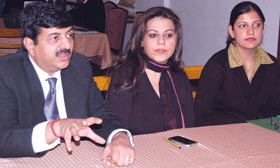 Good news for Canada aspirants
Jalandhar, December 4
There is good news for people seeking immigration to Canada under Rule C-50, even in a period of global recession. The Canada immigration department will release the much awaited list of 38 occupations, shortly.
Dr Balraj Gupta, director of CAAN Wings, during a press conference in Jalandhar on Thursday. Photo: Suryakant

'Make parking arrangements'
Jalandhar, December 4
Deputy commissioner Ajeet Singh Pannu yesterday held a meeting with the owners of city-based marriage resorts at the district administrative complex.