Ramoowalia begins poll march
Sangrur, December 6
President of the Lok Bhalai Party (LBP) Balwant Singh Ramoowalia wants to contest from Sangrur Lok Sabha (LS) constituency either as a candidate of his own party or in alliance with the Congress party.He has stepped up political activity in this constituency. He has chosen 'pedal yatra' (foot march) to identify himself with people of this constituency.
SAD to contest Delhi parliamentary seat
Ludhiana, December 6
After contesting four Assembly seats in Delhi during the recent elections, the SAD will contest a parliamentary seat in New Delhi for the first time.
Badals not inclined to contest polls
Ludhiana, December 6
Shiromani Akali Dal (SAD) president Sukhbir Singh Badal has said no member of his family was inclined to contest the Lok Sabha (LS) elections in the state.
Harbans Lal assumes charge as MC chief
Sangrur, December 6
Harbans Lal was elected president of the Municipal Council (MC) here on July 23. He had to wait for four months and 10 days to take charge of the council because the Department of Local Government, Punjab, had refused to notify his name as president of the council.


India can meet any aggression, says Air Vice-Marshal Chopra
Kapurthala, December 6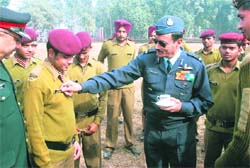 India is capable of giving befitting reply to any external aggression. Air Vice- Marshal Anil Chopra stated this during a visit to Sainik School Kapurthala on Saturday. An alumnus of Sainik School Kapurthala, he unveiled the phased- out air craft MIG 23 installed at the school to encourage its students to join the Indian Air Force.

Air Vice-Marshal Anil Chopra interacts with students at Sainik School, Kapurthala, on Saturday. Tribune photo: Pawan Sharma
Muslim saint's descendant visits ancestral village
Batala, December 6
Mohammad Ali Gilani, an advocate of Supreme Court of Pakistan, today condemned violence by terrorists in various parts of India, and urged Indian and Pakistan governments to wipe out terrorism.
Police reluctant to nab colleagues declared POs
Ludhiana, December 6
After killing their fellow colleagues in a fake encounter and being declared proclaimed offenders (POs) by a special CBI court in Patiala, since June 10 this year, approximately 21 Punjab policemen have been at large.
Varsity teams to gather data
Jalandhar, December 6
Punjab government has initiated the process to collect data in a scientific manner regarding suicides in the agricultural sector. The state authorities have assigned the task to the Department of Economics and Sociology, Punjab Agricultural University, Ludhiana.
Majithia seeks 70% cut in fuel prices
Amritsar, December 6
Youth Akali Dal's patron and information and public relations minister Bikram Singh Majithia has termed the cut in fuel prices as an eyewash and demanded 70 per cent cut in the prices of petrol/diesel and LPG inline with drop in cost of crude oil in the international market from $ 147 to $ 38 per barrel.
'A person trimming hair, beard can't claim to be Sehajdhari'
Amritsar , December 6
Glaring difference of opinion on the definition of "Sehajdhari Sikh", prepared by the SGPC executive committee and panel of experts may put the Shiromani Committee in the spot.