FOG'S HERE: Visibility was reduced on the roads following the fog in Chandigarh on Sunday evening. Tribune photo: Manoj Mahajan

People warm their hands around
a fire to beat the cold in Mohali.
A Tribune photo: Vicky Gharu
Amarinder's Visit
Congress leaders hold meeting
Ropar, December 7
Congress leaders of the district held a meeting of its workers pertaining to the visit of Captain Amrinder Singh scheduled on December 12 to Ropar.
Emphasis on lighter aids for the handicapped
Panchkula, December 7
New methods should be adopted for making the aids lighter and durable so that the handicaps of north India could make the best use of workshop in Saket. This was stated by Dr Dharminder Kumar, director National Institute of Physical Handicap Institute, New Delhi. He was the guest of honour of a symposium on orthotic and prosthetic sciences at Saket auditorium of Haryana Saket Council, Chandimandir here today.
Weeklong theatre fest begins
Power cut disrupts play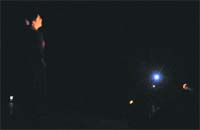 Chandigarh, December 7
The fourth weeklong TFT national theatre festival commenced at the Tagore theatre here today with the immaculate staging of a play "Antar Yatra" in monologue format by Kolkata-based Rangakarmee under the direction of playwright and thespian Usha Ganguly.
Play in dark: Tagore Theatre lights went off when a play 'Antar Yatra' was staged on Sunday. A Tribune photograph




Mayoral nominee: A tough call for Bansal
Chandigarh, December 7
The choice of the Congress candidate for the post of the mayor of the municipal corporation of Chandigarh (MCC), election to which is slated to be held on January 1, is proving to be a Gordian knot for minister of state for finance Pawan Bansal.
Driving license hardly 'smart'
Cops can't access details in absence of card reader
Chandigarh, December 7
For some it is "map of Chandigarh", others say it signifies its "genuineness". That is what majority of the Chandigarh traffic cops say about the Smart Card Operating System for Transport Applications (SCOSTA) enabled smart driving licence. Talking about the micro memory chip inscribed on this smart card, the cops said, "If the surface of the chip feels rough then it is genuine, otherwise fake."
Musings from Beijing


Thanks to my better half - literally better because she gets a fatter pay packet and many opportunities to travel abroad in her job, unlike mine- I recently visited Beijing, China. This was my second trip with her on her official assignment, the first being to Singapore. I was thoroughly impressed with Singapore but not enough to provoke me to pen my thoughts.
High drama in Sector 19
Chandigarh, December 7
High drama prevailed in Sector 19 here this morning when a woman caught her husband with another woman in a house allegedly in a "compromising position".
Submission of building plans on e-mail now
Chandigarh, December 7
Now the residents can submit their building plans on e-mail. They can send a soft copy of the drawings prepared on AutoCAD for the plots measuring less than one acre.
Grieving parents irked over inaction against drunken cop


Mohali, December 7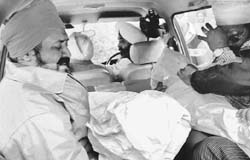 It was certainly not the way Dalbir Singh had planned to adieu his two daughters, Simarpreet and Ishpreet, who were killed by a recklessly driven car with an allegedly drunken cop at the wheels.



A grieving father, Dalbir, holds the body of his two daughters who were killed in a road accident in Mohali on Saturday . Tribune photo: Vicky Gharu
Parties come together...
Say Chander Mohan's 2nd marriage unfortunate
Panchkula, December 7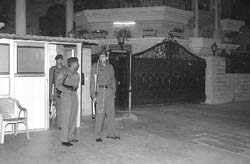 While the house of Chander Mohan, local MLA, bore a deserted look after the news of his second marriage to a woman from Chandigarh appeared on news channels, the development attracted criticism from various quarters here.





Security personnel stand guard at the house of MLA Chander Mohan in Sector 8, Panchkula. A Tribune photograph
Leading by example
19-yr-old takes upon himself to teach slum kids
Chandigarh, December 7
"I feel the need to pass on whatever knowledge I possess to poor kids," says "Ankur sir", as he is fondly called by his students hailing from slums as this enthusiastic 19-year-old ushers them to their 'open' class at a park in Sector 18.
Pesticides a favourite with suicide victims
Chandigarh, December 7
They might stink, look horrible because they are usually packaged in cheap quality tins or bottles and have horrible creatures printed on them like rats and bollworms but still pesticides remain the "favourite choice" (perhaps due to easy availability) of those committing suicides in the city.
Encroachment in motor market goes unchecked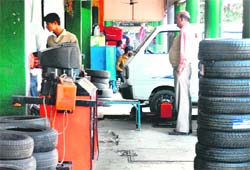 Chandigarh, December 7
Despite tall claims by the municipal corporation (MC) of removal of encroachments, the mushrooming of roadside motor mechanics is on a rise.





A part of the corridor that has been dug up for wheel balancing in a booth of Sector 38 motor market in Chandigarh. Tribune photo: Pardeep Tewari
Disabled soldiers get jobs in govt schools
Chandigarh, December 7
Two inmates of Paraplegic Rehabilitation Centre (PRC), Mohali, have been appointed as data entry operators in Government Schools in Sector 36 and Sector 37 of Chandigarh, thereby giving the disabled soldiers a regular source of livelihood.
PGI gets latest MRI equipment
Chandigarh, December 7
The Post Graduate Institute of Medical Education and Research (PGIMER) is all set for inaugurating the latest "3 Tesla MRI scan" by the Governor, Haryana, Dr AR Kidwai, tomorrow. According to information, the state-of-the-art machine had been procured from abroad. The patients would benefit immensely by the new technology.
Residents pay tributes to Jasmine
Mohali, December 7
Local residents today paid tributes to Jasmine, a 22 year-old hotel management student who died in the terrorist attack at the Oberoi hotel on November 26, at a bhog ceremony held at Phase 5 Gurdwara here today.
Letters
Citizens crying for security


4,000 take MAT exam
Chandigarh, December 7
Around 4,000 aspirants appeared for Management Aptitude Test (MAT) at various centres in the city.
PU Syndicate Elections
Chatrath group gets all 15 seats
Chandigarh, December 7
In an unprecedented victory, 'Chatrath' group has swept over the 15 seats in the PU syndicate elections held today. In addition to declaring representatives of the various faculties on the syndicate of the Panjab University, unopposed candidates for posts of deans and secretaries of Law, Medical Sciences and Animal Husbandry were also declared elected.