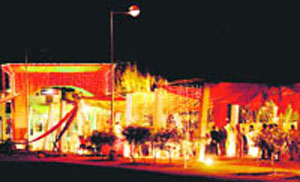 Jammu varsity turns into marriage hall
Jammu, December 8
In utter defiance of the UGC norms, the Jammu University (JU) campus virtually got converted into a "banquet hall" yesterday.


A marriage function, in progress on the premises of Jammu University on Sunday. Photo: Inderjeet Singh

Voter turnout revised to 59 pc
Srinagar, December 8
The Election Commission today revised the polling figures for the fourth-phase polls, upping it to 59 per cent.
Cong upbeat, BJP jolted

Jammu, December 8
With the results of five Assembly states out and the scoreboard reading 3-2 in the favour of the Congress, the mood in the Congress camp here is upbeat. However, the results have certainly come as a big jolt to the BJP, which is hoping to play a key role in the formation of the government in the strife-torn state.

Senior BJP leader and former Chief Minister of Himachal Pradesh Shanta Kumar addresses mediapersons in Jammu on Monday. A Tribune photograph


Azad promises to empower women
Hiranagar, December 8
Former Chief Minister Ghulam Nabi Azad today promised to strengthen the movement for women empowerment in all spheres of life, including representation in Pachayati Raj institutions, cooperatives and the legislature.
Ghulam Nabi Azad
These polls turningpoint for state, says Karan Singh
New Delhi, December 8
The large turnout in the four phases of assembly elections in Jammu and Kashmir despite the boycott call by separatists could be a turning point in the state, senior Congress leader Karan Singh said today.
Farooq: Cong-PDP govt neglected remote areas
Jammu, December 8
National Conference patron and former Chief Minister Farooq Abdullah, while addressing several rallies here today, promised overall development in far-flung areas of Bani, Basohli and Billawar Assembly constituencies.
Coalition govt rule 'darkest chapter'in state history: NC
Jammu, December 8
To woo women voters in the Nagrota assembly constituency, National Conference provincial president of the women wing, Bimla Luthra, today summed up six years rule of the erstwhile coalition government as the "darkest chapter" in the history of the state
Armed Forces Flag Day Fund
Governor lauds role of Army in combating terrorism
Jammu, December 8
Governor N.N. Vohra has lauded the role played by the Army in combating terrorism and providing support to the people living in the far off and remote areas of the state.
Leh highway still open despite snow
Srinagar, December 8
The 434-km-long Srinagar-Leh national highway remained open despite snowfall, while it was heavily snowing at Razdan and Sadhna top, temporarily disrupting traffic to Gurez and Karnah. The 300-km-long Srinagar-Jammu national highway also remained open despite rains.
HC: Detenu's curtailment of liberty illegal
Jammu, December 8
Justice J.P. Singh of Jammu and Kashmir High Court of Judicature today allowed Heabus Corpus Petition of Mohd. Sadiq, while quashing the Doda District Magistrate's order dated March 7 (2007) and directed the state and its functionaries to set the petitioner to liberty forthwith, if not, required in any other case.
Probe ordered into minor's rape case
Srinagar, December 8
In view of the large scale protests by people, separatist leaders and main stream political parties, the authorities in the Kashmir valley have ordered a magisterial probe into the alleged rape of a girl in south Kashmir.
Major fire in Gurez, 55 houses gutted
Srinagar, December 8
In a major fire, 55 residential houses were gutted in the snow-bound Gurez sector near the line of Control (LoC) in Jammu and Kashmir's Bandipora district today, but no casualty was reported, official sources said.
Srinagar reels under power cuts
Srinagar, December 8
Cloudy and chilly weather conditions prevailing in the valley since yesterday has inconvenienced the life here at a time when its population is readying for Eid-ul-Azha.
Snow in upper reaches
Srinagar, December 8
Upper reaches in the Kashmir valley, including the world famous ski resort of Gulmarg, experienced snowfall while plains, including the summer capital Srinagar and its adjoining areas, had rains. There was few inches of fresh snowfall on Gulmarg slopes last evening while it was raining today, a hotel owner said over the phone.
Army takes senior citizens on Delhi tour
Jammu, December 8
With an aim to create awareness about the developments in the country, the Army has taken 20 senior citizens living near the Line of Control (LOC) in Jammu and Kashmir's Poonch district on a week-long tour of New Delhi.
Firing on local TV channel office
Jammu, December 8
After last night's incident of firing on the office of a local television news channel in Channi Himmat on the outskirts of the city, the police today rounded up a couple of suspects. Last night unidentified persons had attacked 'Take One', office of a local channel being run by Devinder Singh Rana, National Conference's sitting member of the legislative council.